The China uptrend is cracking.
That's bad news for some of China's highest-flying momentum stocks, including Internet companies like
Baidu
, Sina, and Sohu.
The latest data from the China Internet Network Information Center (CNNIC) shows total Internet users in China reached over 457 million at the end of 2010, a 19% growth rate over the past year...
That's huge in comparison to the stagnant U.S. market. But it's down from a 30% growth rate a year ago.
Even worse for China's online giants, the majority of new entrants to the market are from China's poor farming class, not wealthy city-dwellers.
And these trends are scuttling some monster rallies.
You see, as more people in China started using the Internet, Chinese Internet stocks rocketed. They bottomed last summer. Since then, the gains have been absurd – all these stocks doubled or tripled in less than a year. Just look at the numbers...
| | | | | |
| --- | --- | --- | --- | --- |
| Company | Market Cap | 52-week Low | 52-week High | Percent Gain |
| Baidu | $41.3 billion | $65.90 | $156.04 | 137% |
| Sina | $5.2 billion | $40.05 | $147.12 | 267% |
| Sohu | $2.5 billion | $34.26 | $109.37 | 219% |
But since April, these stocks have taken a big hit...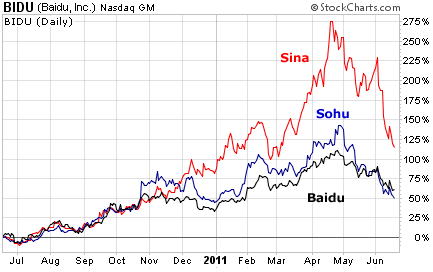 It's no secret investors were optimistic about these names. The only problem is that optimism leads to ridiculous valuations.
Take Baidu for example. Using last year's numbers, the stock has a price/earnings (P/E) ratio over 76. Even after its recent fall, it's trading at a whopping 30 times sales. (A multiple of 10 is considered expensive.)
To put this in perspective, Google trades around five times sales. Even Amazon trades just over two times sales.
Wall Street analysts justify their buy ratings on stocks like Baidu using their optimistic view of next year's financial results. If Baidu hits these consensus estimates for 2012 earnings, it's trading at a slightly more reasonable P/E ratio around 30.
But betting on blue-sky earnings that far out is a bad idea. More important, Wall Street has been raising its expectations. Over the past four months, the consensus estimate for Baidu's 2012 earnings is up more than 12%. Analysts expect the company to increase earnings per share by about 50% next year.
Rising expectations are the key to justifying a rising, expensive stock. But the market is realizing these numbers don't add up. The stocks are already pulling back. If earnings come in below the optimistic estimates, investors will reset their expectations.
Google went through a similar "reset" in early 2008 – way before the financial crisis slammed the stock market. Shares plummeted from well over $700 in late 2007 to below $420 in early March 2008. That's a 40%-plus drop in three months.
Based on the exuberance in Chinese Internet stocks, these names could fall a lot farther than that. I wouldn't be shocked to see these stocks return to last summer's levels.
Like all great "boom and bust" sectors, there's a lot of money to be made once the momentum breaks. If a bust happens, investors will hate China Internet stocks again. At that point, we can take advantage of cheap prices on some of China's online "
trophy assets
."
Good investing,
Larsen