In the past six weeks, investors have had nowhere to hide...
Stocks across every sector are down. The S&P 500 has fallen over 7%. The large-cap index has given up nearly all of its gains for 2011.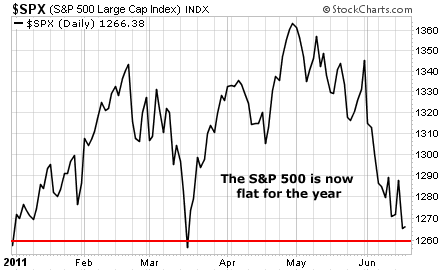 The big question on investors' minds is: Will stocks rebound?
It's a good question, considering the S&P 500 has rallied on every pullback from the March 2009 lows. For example, the S&P 500 fell 6.5% in early 2010. Two months later, the index rebounded more than 11% to a 52-week high. The S&P 500 fell 11% from April 2010 until August. Once again, stocks rebounded sharply to a 52-week high.
That brings us to our recent pullback...
Right now, it's difficult to tell if stocks will sell off further or bounce back. As my colleague Jeff Clark points out,
the technicals are giving mixed signals
. And there are fundamental arguments to make either way...
On the negative side, our deficits continue to grow, home prices are still falling, we added fewer jobs last month, and overall manufacturing has slowed. On the positive end, stocks are trading at dirt-cheap valuations. Corporate balance sheets are stronger than ever. Plus, if we see a further decline, the Fed could initiate another major stimulus plan.
With all the uncertainty, buying here can be a risky proposition. So what I'm doing is checking PEG ratios. The PEG is the price-to-earnings (P/E) ratio divided by the company's earnings growth rate.
In weak markets, PEG ratios are especially significant. Understanding how much a company is expected to grow over the next one to three years will help you avoid "value traps" – companies that look cheap... but are likely to get even cheaper.
And right now, using the PEG, I see several market-leading companies trading at attractive levels.
Below is a table of five companies that are giants in their respective industries. They are all down more than 15% over the past six weeks. More important, they now have a PEG ratio of less than one. That means their growth rate is higher than their P/E ratio.
Take a look...
| | | | |
| --- | --- | --- | --- |
| | % Change from May 1 | PEG Ratio | Business Description |
| Cummins (CMI) | -21.9% | 0.78 | Giant engine manufacturer |
| Archer Daniels (ADM) | -20.1% | 0.89 | Largest agricultural processor |
| Caterpillar (CAT) | -16.4% | 0.87 | Huge provider of construction equip. |
| Joy Global (JOYG) | -16.3% | 0.87 | Giant mining-equipment maker |
| Lowe's (LOW) | -16.2% | 0.95 | Large home-improvement retailer |
If you're not using the PEG, you might not give these companies another look. Engine maker Cummins, for example, has a P/E ratio of 14. That may seem a little expensive compared to the S&P 500 – which is trading at 13 times earnings.
But Cummins is expected to grow its earnings by almost 20% next year. That gives the company a PEG ratio of less than 1. Based on its PEG, Cummins looks like a strong buy following the 22% pullback. And I'd say the same for any of these five global leaders.
Keep in mind, most of these companies are sensitive to global economic growth. But if you're in the "glass half-full" market camp like me, these are attractive positions.
Good investing,
Frank Curzio