In short, I told you to avoid large-cap banks. I believed banks would have a tough time generating the kind of earnings growth analysts expected. After all, most banks are still shrinking their balance sheets.
Also, economic growth forecasts have been revised lower – which could lead to lower investment fees. And banks are under a microscope right now. Raising credit-card and ATM fees will be difficult with an election year around the corner.
Since my April essay, the Financials Select Sector Fund (XLF) is down more than 5%. Citigroup and Bank of America have fared worse. These banks are down 10% and 14%, respectively.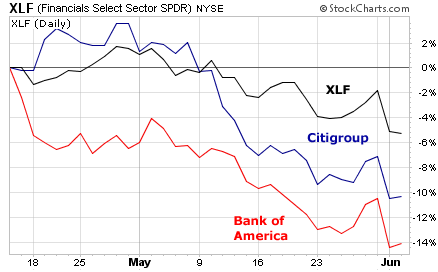 We can blame the sharp move lower over the past few days on the recent housing news. Last month's data shows home prices are still falling in most major U.S. cities...
Falling home prices means more people will be upside-down on their mortgage. (They'll owe more money on their homes than the property is actually worth.) The more people are upside-down, the more people will walk away from their homes. That means more foreclosures – and further losses on the balance sheets for banks.
Despite the risk of lower home prices, I think the decline in bank stocks is overdone. Yes, the banks are facing big problems. But those problems are priced in.
Tangible assets are cash, inventory, buildings... anything that can be touched. They don't include "goodwill" and other assets that are hard to value. Therefore, tangible book value is a more accurate reflection of what a company would sell for if it were liquidated. It's a bargain-basement price.
Following the recent selloff, Citigroup and Bank of America are trading well below their tangible book values. Citigroup is currently trading under $40. That's a 15% discount to its tangible book value of $46.94. Bank of America is currently trading at $11.25. That's a 14% discount to its tangible book value of $13.21.
The last time these stocks traded at this steep a discount to their tangible book values was during the Great Recession. Citigroup and Bank of America have each jumped over 100% since then.
I'm not saying these banks will move 100% higher from their current prices. But they're incredible bargains right now. From a risk/reward standpoint, I can't think of two better large-cap stocks to buy.
Good investing,
Frank Curzio