Gold stocks are in correction mode.
Over the past 45 days, the Market Vectors Gold Miners Fund (GDX) – a basket of large gold stocks – is down 11%. Small-cap gold stocks have fared worse. Some names are down more than 15% in the same timeframe.
So with the pullback in gold stocks, should investors be buying here?
According to John Doody, the answer is "yes."
John writes the
Gold Stock Analyst
newsletter. And he's been writing about gold stocks for three decades. He's lived through the biggest booms and busts in the industry. Over the past 10 years, his top 10 holdings outperformed the price of gold by more than 900%.
On Wednesday, I talked to John on the
S&A Investor Radio
podcast. (That's a free weekly investor radio show where I interview some of the top market analysts on Wall Street – including your favorite editors at Stansberry & Associates.)
This week, John and I had a conversation about gold prices and gold stocks. He said gold stocks outperform the metal by an average of 2-to-1 over time.
But right now, while gold stocks are falling, gold prices are holding steady. The metal has outperformed big gold producers by about 12%...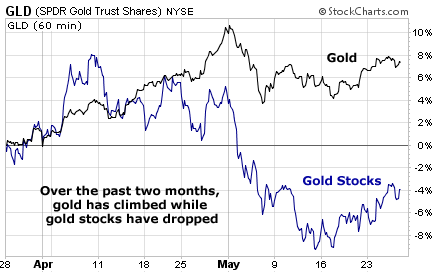 According to John, this pullback in gold stocks – while gold prices are moving higher – is a buying opportunity.
Another reason John loves gold stocks right now is because the "real interest rate" is negative. The real interest rate is the rate of return on your cash in the bank, minus inflation.
You see, gold pays no interest. If money in the bank is paying a good interest rate, holding cash is more attractive than holding gold.
But right now, bank rates are paying next to nothing in interest. Plus, inflation is over 1.5%. That means the real interest rate is negative, and gold is more attractive than cash.
During times of negative real interest rates, gold stocks soar. And with the job market remaining weak and the U.S. economy growing less than 2%, the real interest rate will remain negative for at least another two years – probably much longer.
With the sudden drop in gold stocks, my advice is to follow what the smartest person in the world is doing. Today, John Doody is backing up the truck on gold stocks. I suggest you do the same.
Good investing,
Frank Curzio