The stock market is like a car stuck in neutral with the gas pedal pressed to the floor. It's using a lot of fuel, but going nowhere.
The S&P 500 closed yesterday at 1,320 – which is where it closed about this time last month, and the month before that, and the month before that. The index has been as much as 50 points higher and 50 points lower. But for all that action, investors have nothing to show for it.
And the question everyone's asking is, "Where do we go from here?"
To be honest, I don't know. Neither does anyone else. But we can make an educated guess.
Let's gaze into our crystal ball of technical analysis and see what it says. Take a look at this 60-minute chart of the S&P 500...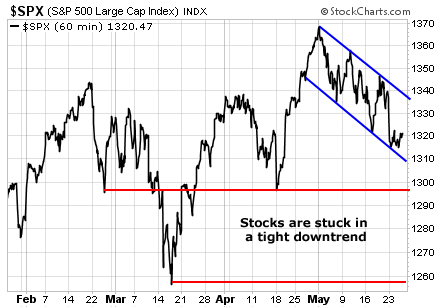 The blue lines on the chart outline a well-defined downward channel – which is formed as the index makes a series of lower highs and lower lows. Traders can use these lines to pinpoint good areas at which to buy and sell.
For example, the bump up to 1,345 last week ran into resistance right at the downtrend line. That was an excellent spot at which to speculate on the downside. Yesterday morning's dip down to 1,313 on the S&P 500 bounced off its support line, giving buyers a good chance to go long for a quick trade.
As long as the S&P remains within the blue lines, the downtrend will continue... and we'll be looking for lower prices over the next few weeks.
The red lines on the chart highlight major support levels. The downside target for a modest correction is the index's April low, around 1,296. But if stocks fall past that level and we suffer a more serious correction, the next target is down around 1,250.
Traders have the advantage in the short term. Buy at the support of the downward channel. Sell at resistance. In other words, follow the old market saying: buy low, sell high.
Longer-term investors are better off waiting until the S&P 500 gets closer to one of the major support lines before jumping into the market.
Best regards and good trading,
Jeff Clark