For the rest of this year, one of the biggest questions in the commodity complex will be, "When do I get back into silver stocks in a big way?"
You see, despite the selloff gold and silver have seen in the past month or so, I'm still a long-term bull on precious metals. The U.S. government hasn't done a single thing in the past few years to address our incredible debt problems... which is bullish for "real money" assets like gold and silver.
But no asset rises to the moon in a straight line. Gold and silver stocks enjoyed a big rise in late 2010... and now they are under heavy selling pressure.
So here's how I'll be trading this sector over the next year. I'll use one of my favorite silver stocks, Mirasol Resources to illustrate the game plan...
Mirasol is a small company (under $175 million market cap) exploring the Deseado Massif, a geologic wonderland that sticks out from the lower part of Argentina like a spur from a boot heel.
The management and principal geologists at Mirasol are experts with decades of combined exploration experience. The discoveries are real and have enormous potential. If you're bullish on precious metals over the long term, this is one stock you need to consider owning.
But it's best to wait before rushing in. Here's why...
In my small-cap trading advisory, the
S&A Junior Resource Trader
, we got into Mirasol in November 2010. At that time, Mirasol was a $126 million junior exploration company with one silver discovery under exploration and a brand new one it was just starting to drill.
Over the next few months, the company put out solid drilling results from the new discovery, the resource sector made a big move higher, and shares of Mirasol soared...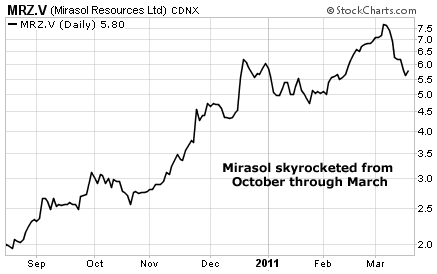 Then the big move in resources stalled...
The TSX Venture Index is like the "Dow Industrials of small resource companies." From its March high, the TSX Venture is down 20%. The decline in small resource companies hit Mirasol particularly hard. Shares are down nearly 45%.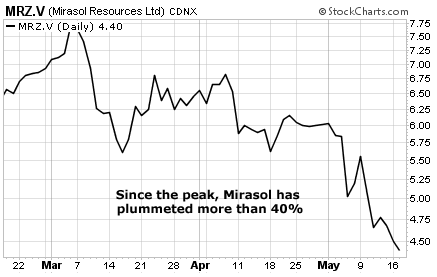 Fortunately, in the Junior Resource Trader, our stop got us out early with an 18% gain in six months. Not bad. But this stock can do much better.
When the TSX Venture crosses back above the 120-DMA, we'll be back in "bull mode" for junior resource stocks. I'd also like to see Mirasol stabilize in price for a while. After all, the moves in small resource stocks – both up and down – can be huge.
Right now, trying to buy almost any junior resource stock, including Mirasol, is like trying to catch a falling knife. We don't know how far it will fall...
Don't fight the trend. Save your capital and wait for the trend to switch back. When it does, I'll be buying silver companies like Mirasol.
Good investing,
Matt Badiali