Dear Dan,
Congratulations on a stunningly accurate call of a top in the current commodity rally/U.S. dollar collapse.
There's no doubt you nailed it. You served our customers by warning them the market's sentiment on the U.S. dollar had become far too bearish. Since your warning, silver has fallen more than 28%. Gold is down, too. And even the "harder" currencies I prefer (the so-called CASSH currencies from Canada, Australia, Switzerland, Singapore, and Hong Kong) are all down against the U.S. dollar by fractional amounts.
So again, bravo, Dan. Great work.
Unfortunately, I didn't profit from your unworldly foresight. Alas, I remain a dollar bear. I would not willingly own or save U.S. dollars except that I must to function in the U.S. economy. I continue to prefer gold and sound foreign currencies to the U.S. dollar, despite the silver correction this week. Thus, I continue to recommend investors buy gold and silver on a regular basis and hold on to the precious metals they own.
As you may know, Dan, I began buying gold regularly in 2004 and have never sold a single ounce. I continue to believe gold, silver, and certain foreign currencies will prove to be a "lifeboat" for Americans. I'll leave the weekly guessing about short-term pullbacks to folks like you and Chris Weber, who have a remarkable knack for it.
I've known the dollar must inevitably collapse since the fall of 2008, when I saw the U.S. government begin to bail out the financial system. No paper-currency regime can last for long. The U.S. paper-dollar standard has been around for 40 years now. It's certainly long in the tooth... and becoming quite decrepit.
As I've written dozens of times, the best way to understand what's happening to our country, protect yourself from this crisis, and profit as the dollar system collapses is to short U.S. Treasury long bonds (TLT), while buying gold (GLD).
My reasons for this core, long-term trade are simple and easy to understand: The U.S. government is bankrupting itself by attempting to bail out Wall Street while running enormous fiscal deficits, without which our economy would not function.
These absurd fiscal policies (annual deficits of around 10% of GDP) will eventually lead to a collapse in the U.S. bond market and a return to gold-backed currencies around the world. This is what I mean when I talk about the "End of America." It's the end of the U.S. dollar as the world's reserve currency. It's the end of this period of history, when the U.S. government's financial power seemed unlimited.
I've hashed out the facts and the reasons for this major change in the world's monetary system in several issues of my Investment Advisory newsletter over the past three years. And as you know, these ideas have been borne out in the market.
Below, you'll find a chart showing this core trend – a weaker bond market and stronger gold prices – over the last two years. The Federal Reserve has been purchasing roughly 70% of all Treasury issuances. The Fed has "propped" up the bond market by printing massive quantities of new money – what it calls "quantitative easing." This kept a bid under the bond market... but led investors to buy gold (and other hard commodities) to protect themselves from the Fed's printing.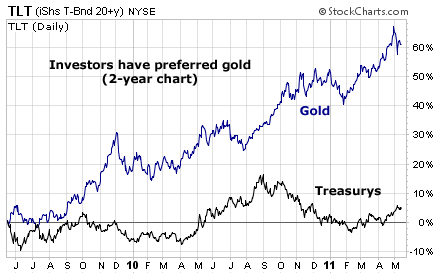 Now, here's the same chart over the last three months. As you can see, the spread between Treasury bonds and gold suddenly narrowed...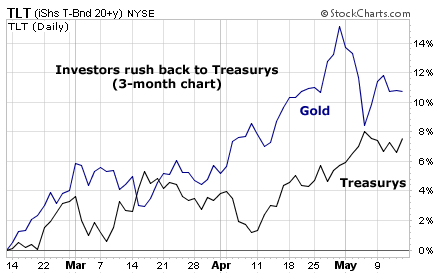 Why would this happen now? Why would investors suddenly favor U.S. bonds and dollars over gold – after a huge move down in the U.S. dollar and a correspondingly large move up in gold prices?
Has this trend run its course? Have the fears of a permanent collapse in the U.S. dollar been overblown? Are we at the beginning of another major bull market in U.S. stocks and the dollar?
No. None of our economy's problems or the risks I've described has been resolved. Nothing fundamental has changed – the problems I've been writing about for years have only gotten worse.
How do I know?
The principal driver of these market moves has always been the Federal Reserve. Its actions set the gold market on fire. Its money-printing drove investors into alternatives like gold and silver.
The Fed has announced it will stop its printing campaign as of June 30, 2011. Bernanke says that's the end of "QE2." The implication is, after that date, the bond market will have to fend for itself... the great inflation will stop and maybe even reverse. Anticipating these moves, the market has begun to act.
So... like you, Dan... I wouldn't be surprised to see the dollar rally or watch commodities fall over the next six weeks. I believe this correction will last through the summer and into the fall. That's why I agreed with your call last week. I knew the time was coming. I'd been warning my subscribers for months not to own stocks if they couldn't hedge their portfolios with short positions... If they couldn't (or wouldn't) short stocks, they should own 50% gold and 50% short-term U.S. Treasurys. In my view, that's the only way to go "all cash."
But... and this is where we might still part ways... I think Bernanke is lying.
I'm certain more quantitative easing lies ahead. I'd guess the printing will start up again later this year. Even if I'm wrong about the timing, it's inevitable we'll see a lot more money-printing in 2012 – simply because it's an election year.
Furthermore, I don't believe the current political structure of the U.S. – where roughly 10% of the population pays for the majority of the government – will ever permit a significant cut in spending, no matter who wins the next presidency. I remain as convinced as ever that our country is facing a fiscal catastrophe unlike anything we've ever experienced before. The amount of price inflation (which is the delayed impact of the monetary inflation we've seen since 2008) will be beyond anyone's biggest forecast.
And that's why... despite these inevitable corrections and pullbacks... despite the "crowded" nature of these positions... I remain a dollar bear. These market moves are opportunities to buy, not missed opportunities to sell.
Now, I admit I'm not the world's best trader. While some subscribers and analysts on our staff can consistently get these kinds of market moves right... I'm just not one of them. Instead, I've spent my career and built my fortune by simply figuring out what the biggest, most valuable trends are likely to be – and then sticking with them for as long as I can.
I believe the bankruptcy of the U.S. government is inevitable. I believe it will be the biggest and most potentially valuable trend of my entire career. And I want to make sure I do everything I can to stay with this trend until it's really over. I don't try to trade these corrections, because I'm always afraid I won't know when it was time to buy back in. Then I'd miss the big move – the move toward vastly higher prices for gold, silver, and foreign currencies. Even worse, I could find myself holding an asset I know is fundamentally worthless.
At some point, the bear market in the U.S. dollar will end. I believe we'll know it's over when the Treasury announces a new form of the U.S. dollar – one that's backed, in some way, by gold. Even if I'm wrong about this (and I admit, it certainly seems far-fetched), I wouldn't recommend anyone hold unhedged U.S. dollars until the Treasury is offering a
real yield on its bonds
. According to the best numbers I've seen, that would imply short-term Treasury bill rates of at least 5%.
For most investors, staying with the trend is the hardest part of investing. It's not exciting. You don't often get to be "right." But in my experience, what really matters isn't how many times you're "right." It's how few times you're wrong. I minimize my trading to minimize my mistakes.
Assuming some readers agree with me... what should you do now? If you've already bought a considerable amount of gold and silver and have a handful of gold and silver stocks or ETFs, you should probably do nothing. Allocating 10%-25% of your portfolio to precious metals is probably plenty to protect yourself from this ongoing crisis.
On the other hand, if you don't have any precious metals allocation, I recommend buying up to at least 10% of your portfolio in gold and then up to 25% of your portfolio in a range of precious metals "stuff" – like silver, mining royalty stocks, metals producers, etc.
Do it this way... After buying gold and silver, make a list of the five or 10 gold and silver stocks you'd like to own. You can learn about these firms by reading our own
S&A Resource Report
, subscribing to our friends at
Casey Research
, or following two of the real legends of the newsletter business,
Chris Weber
or
John Doody
.
Regards,
Porter Stansberry