In late 2009, when ObamaCare was working its way through Congress, our sister publication DailyWealth predicted, "As many as 47 million new patients will pour into the already massive U.S. health care industry."
The headline of that essay was "
Everybody Wins in Health Care Reform. Except You.
" You see, with this kind of big government boondoggle, you always hear big promises for consumers and taxpayers. But you're guaranteed to see more money and more benefits going to a select few companies.
As I'll show you today, we've already seen stocks in some of these companies soar. But the story isn't played out yet. Let me explain...
Managed care providers administer health care plans. They're the first stop in the long chain of money flowing from the government down to doctors and pharmacies.
In recent weeks, giants in this sector – including UnitedHealth and WellPoint – delivered earnings results that shocked Wall Street. But what's really shocking is how quickly these massive profits are happening.
Although Wall Street analysts are terrible at telling investors what to do (they put "buy" ratings on everything), they pride themselves on predicting short-term earnings. The chart below shows how health care plan companies are generating profits beyond the Street's wildest expectations...
| | | | |
| --- | --- | --- | --- |
| Company | 1st Quarter Earnings/Share | Consensus Estimate | Percentage Beat |
| UnitedHealth (UNH) | $1.22 | $0.89 | 37% |
| WellPoint (WLP) | $2.44 | $1.89 | 29% |
| Aetna (AET) | $1.50 | $0.96 | 56% |
| Cigna (CI) | $1.57 | $1.09 | 44% |
Enrollments are booming for these companies. UnitedHealth added 1.25 million people to its membership list during the first quarter alone. WellPoint added 875,000 new members in the past three months. Both companies have a total membership of around 34 million people.
And it's no surprise to see these stocks surging to 52-week highs. They're all up at least 40% over the past year.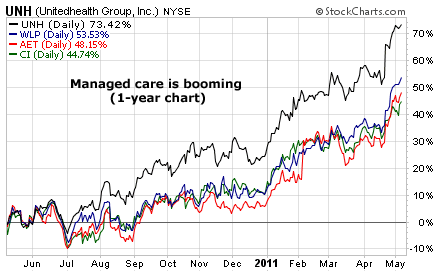 Phase 1 subscribers have profited from Molina Healthcare, a much smaller managed care player. Since our December 2009 report, Molina is up more than 100%.
By now, the effects of ObamaCare are priced into these stocks. But we haven't yet seen the same kind of jump in the health care sector as a whole. Health care stocks rose just 0.7% during 2010 as the rest of the market rocketed almost 13%. And most health care companies have posted below-average 3%-5% sales growth rates over the last year.
The thing is, health care "utilization rates" usually see a three- to four-year lag following recessions. So over the next year or two, business is likely to pick up, pushing up growth numbers and share prices.
The big gains in health care plan companies like UnitedHealth and WellPoint are the first sign of the coming uptrend for the health care sector. More people with health care coverage means more treatments and drug prescriptions. That means higher revenues and earnings for the companies that provide these services.
It's a shame to see big government programs soaking the taxpayer and generating huge profits for a few companies. But it's a bigger shame to miss the resulting gains.
Good investing,
Larsen