On April 28, Research in Motion (RIMM) dropped a bomb on its investors.
The maker of BlackBerry smartphones said handset shipment volumes will be at the lower end of its estimates. The company also lowered revenue, gross margin, and earnings estimates for 2012.
The last time RIMM fell below $50 was in August. Back then,
I told you to buy the stock
. Several short-term catalysts were set to push shares higher. I was early – the stock bottomed out at $43. But it went on to hit a peak of $70 in six months.
So is RIMM a buy again here?
Well, last time around, the company was coming off a weak quarter – similar to what we are seeing today. But its new Torch Blackberry was about to be released. AT&T was spending $100 million on a national campaign to market this new phone.
Also, there was speculation Lebanon and Saudi Arabia would ban BlackBerry service due to security risks. Since these countries only accounted for roughly 2% of RIMM's revenue, this risk seemed overblown.
At the time, I believed RIMM had limited downside and strong upside in the short-term. And I was right.
But since February, the stock has given up all those gains, including a one-day 12% drop...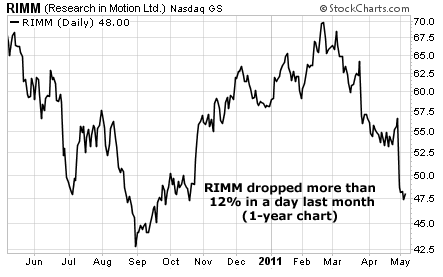 Shares dropped as the company's weak earnings report triggered a host of downgrades by Wall Street's largest investment firms. Research firm Jefferies even titled its report "We Were Wrong" and lowered its price target on RIMM from $80 to $35.
I think that's the right call.
RIMM is losing huge market share to Apple. The risk has become greater since February. That's because 92 million U.S. wireless users can now purchase the iPhone through Verizon. Verizon is also spending huge amounts of cash to market Apple's signature smartphone.
RIMM has delayed several of its new products. At its BlackBerry conference this week, the company was expected to announce up to six new phones for the summer. Management only announced two devices. This comes on top of numerous delays in the release of RIMM's new PlayBook tablet.
The company has promising technology in its new QNX operating system. (QNX uses less memory, is easy to develop apps on, and is much faster than Linux or Windows, according to industry professionals.) But this new system won't launch until next year.
The stock may seem cheap trading at seven times next year's earnings. That's based on management's 2012 earnings projections of $7.50 a share. Due to intense competition from Apple and few new products coming to market, RIMM has no chance of coming anywhere close to this estimate.
Yet, according to Yahoo Finance, 22 institutional analysts still have a buy rating on the stock. That leaves a lot of room to disappoint.
RIMM also has $2 billion in cash and no debt. That amounts to roughly $4 a share. But it will have to spend this cash just to keep up with Apple. We are already seeing this trend... The cash balance is down about $1 billion since August.
Based on few short-term catalysts, I see no reason to buy RIMM at these levels. In fact, Apple provides a much better bet over the next six months.
Good investing,
Frank Curzio