"That's why if silver drops down to $20 or $25 an ounce, the seasoned investor will ignore the hype and buy more."
He's right. Seasoned investors know to buy low and sell high. But what Brian doesn't tell you is that if silver drops to $20 or $25 an ounce, the average mom and pop investor will be jumping out the window.
I know this because silver is at $39 an ounce and my voicemail is already filled with panicked messages from friends asking, "What do I do now? Should I buy? Should I sell? Help!"
The silver trade blew up this week.
It was bound to happen. The trade was too crowded. Everybody was making gobs of money as silver hit new high after new high. "To the moon!" silver bugs cheered as the precious metal went parabolic.
But parabolic moves are unsustainable. They always end badly. And silver was no exception.
Just four days ago, silver peaked above $48 per ounce – a 170% gain from eight months ago. It has since lost about 20% of its value, or about $10 per ounce.
Take a look...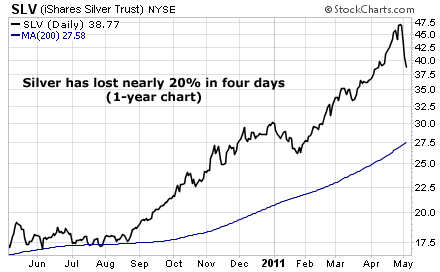 The chart doesn't look all that bad – especially if you bought silver last September. It's the folks who bought it last week who are in pain.
Of course, if you took
my advice last month
when I warned that silver was trading much too far above its 200-day moving average (DMA) to offer a good trade, you avoided that pain. Yes, you also avoided the potential profits that could have been made if you were quick enough to get in and out of silver during the second half of April. But at least we stayed off the emotional rollercoaster.
So where do we go from here?
In previous years, whenever silver rallied more than 50% above its 200-DMA, it always came back down to at least test the moving average line (the blue line on the chart). History suggests that'll happen this time as well.
This process should take at least a few months as the price of silver falls and the 200-DMA climbs slightly higher.
It won't be a straight shot lower for the metal. In fact, after the recent violent selloff, silver is oversold and poised for a temporary, short-term bounce. But I suspect once that bounce is out of the way, silver has lower to go.
My advice today remains the same as it was last month...
At the very least, silver needs some time to consolidate its recent gains. The best case is the metal could hang out here for a while and give the 200-DMA a chance to rise up closer to the current price. The worst case is silver could be headed for a nasty correction.
Either way, if you're thinking about buying silver, you'll likely get a safer entry level a few months from now.
Best regards and good trading,
Jeff Clark