After skyrocketing nearly 150% in eight months, the metal has fallen as much as 16% in the past three days... and more than 7% in just one day. Silver stocks are going through even bigger swings.
During wild times like this, it's important for silver owners to keep the "long view" in mind. By that, I mean studying the long-term direction of the asset... rather than getting caught up in the day-to-day headlines.
In silver's case, it's important to note the metal was trading for less than $5 per ounce back in 2003. It gradually tripled in price over the next four years... then spent the next several years trading in a volatile sideways pattern. The credit crisis caused a huge correction... which was followed by the huge rally you see below: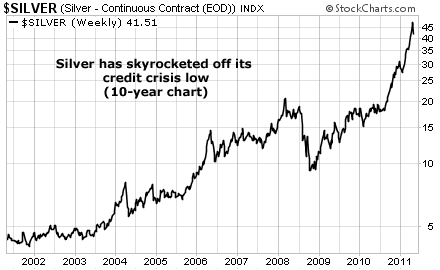 What most folks don't consider about this situation is this 10-year "long view" of the general price trend. When you stand back from all the daily hype and look at the general trend of silver, you see the metal could fall all the way down to $20 or $25 per ounce and still remain in the confines of its bull market.
It's also worth remembering the fundamentals driving this uptrend haven't changed one bit in the past six months. The U.S. government has taken on so many unfunded liabilities... and so much debt, it cannot possibly pay it all back with sound, honest money. It must pay the debt back with devalued, debased paper money. This is causing "real money," like gold and silver, to march higher. These monetary metals are simply holding their value in the face of reckless government borrowing and spending.
That's why, if silver drops down to $20 or $25 an ounce, the seasoned investor will ignore the hype and buy more.
Good trading,
Brian Hunt