Despite the big hype campaign, investing in electric cars is turning out to be a dud.
Over the past few years, one of the biggest "next big thing" stock stories has been the coming revolution in the battery industry... driven in part by the coming explosion in the electric car market.
The hype came to a head over the past six months with the release of the Chevy Volt and Nissan Leaf. These plug-in electric cars joined a market that already included Tesla's Roadster, Mitsubishi's MiEV, the Th!nk City, and others.
In his January 2011 State of the Union address, President Obama even said, "We can break our dependence on oil... and become the first country to have 1 million electric vehicles on the road by 2015."
But when we look at hard sales numbers and the judgment of the stock market, we see the hype isn't amounting to much action. Here are the month-by-month sales results for the Volt and Leaf so far...
| | | | | | |
| --- | --- | --- | --- | --- | --- |
| | Dec 2010 | Jan 2011 | Feb 2011 | Mar 2011 | Total |
| Volt | 326 | 321 | 281 | 608 | 1,536 |
| Leaf | 19 | 87 | 67 | 298 | 471 |
As you can see, the reality is still nowhere near the hype. Compare, for example, the 471 Nissan Leafs sold so far to the company's September announcement of 20,000 pre-orders. There's a LONG way to go before this becomes anything more than a small fad.
Last month, Consumer Reports came out with a critical verdict on the Chevy Volt. The magazine noted "compromises in passenger comfort," including a cramped rear seat and a poor heating system. Still, the biggest issue has to do with the core reason for buying an electric car – saving money by avoiding high gas costs.
Consumer Reports figures at $48,700, the Volt "is not really much of a money saver in many places... For now, it seems that owning a Volt is an expensive way to be green."
Factoring in the national average electricity rate of 11 cents per kilowatt hour, Consumer Reports calculated that the Volt costs about 5.7 cents per mile to drive in electric-only mode. That's not much in savings compared to the Toyota Prius hybrid, which costs 6.8 cents per mile to drive. More important – the Prius is half the price of the Volt.
This kind of press means 2011 won't be the much-anticipated year of the electric car boom. And it's killing the two most popular public companies in the battery sector – Ener1 (HEV) and A123 Systems (AONE).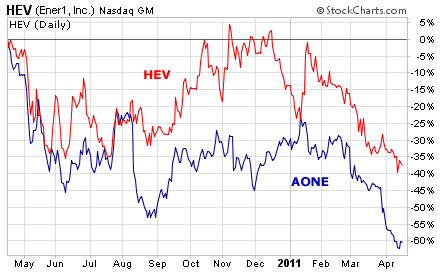 Despite all the hoopla about batteries, both stocks are stuck in brutal downtrends.
A123 Systems' sales in its transportation segment actually declined last year. Analysts have been scrambling to try to figure out when the company will stop burning through its cash supply. Just this month, it raised $300 million by issuing more shares and convertible notes. These moves dilute the holdings of existing shareholders.
Analysts at the research firm Wunderlich say they expect another $200 million in financing mid-2012. More importantly, the analysts note that A123 will still run out of money in 2013 based on the updated numbers.
Meanwhile, Ener1 has shifted its focus toward its utility grid business instead of its automotive battery segment. In January, Ener1 stopped shipping batteries to its main customer, Th!nk, because the manufacturer is stuck with too much inventory after weak sales of the Th!nk City electric car.
A123 is trading around 1.5 times book, while Ener1 is still well above two times book. If these ratios fall closer to book value, you could say the stocks are trading at rock-bottom valuations... provided you're comfortable with bankruptcy rumors.
I expect the biggest factor in determining how these stocks trade will be government policy toward electric cars. If U.S. and European governments want to hike tax credits (currently $7,500) and rebates for buying expensive electric cars, they can throw enough money at the industry to boost sales.
But with these governments and many of their citizens struggling with bankruptcies of their own, it's more risk than I'm willing to take on.
Good investing,
Larsen