Dozens of biotech companies had disappeared over the previous three years... Big Pharma companies like Pfizer and Merck had used part of their enormous cash hoards to snap up small biotechs with promising drugs.
Here's the thing: Not many new biotechs had gone public. We were looking at a supply-demand imbalance. And I expected that imbalance would push biotech indexes like the S&P Biotech Fund (XBI) higher as more mergers were announced.
I was wrong.
Over the last six months, the biotech sector has been quiet. No major acquisitions have taken place. That hasn't hurt the sector. The SPDR Biotech Fund (XBI) is up 8% since I wrote about it. But we haven't seen the boom I was expecting.
I think that's about to change...
Last week, large-cap drugmaker Valeant put in a $5.7 billion hostile takeover bid for Cephalon, a midcap biopharma company. It was the first significant action in months.
After the bid, shares of Cephalon soared 30%. No surprise there. But based on the big price tag, you'd expect Valeant's shares would dive after the announcement. Instead, they jumped more than 10% as well.
You see, Valeant wants to buy the company even though Cephalon's management doesn't want to sell. Valeant simply thinks it can do a better job with Cephalon's assets than the current management. The market agrees.
This action is a great illustration of how biotech acquisitions can be a "win-win" for investors. More importantly, it means more deals are likely over the next few months. (I can just imagine other biotech and pharmaceutical CEOs seeing this deal and saying, "I can make acquisitions AND have my stock rise? Where do I sign up?")
Even if this new deal doesn't set off a flurry of mergers, I expect the sector to continue its "stealth" trend higher.
Last month, when Japan's earthquake rattled global markets, the S&P 500 fell about 3%. The Nasdaq dropped 5%. But XBI fell just 1.6% during the same period. And while the broad indexes are about flat for the month of March, XBI is up more than 6%.
Take a look: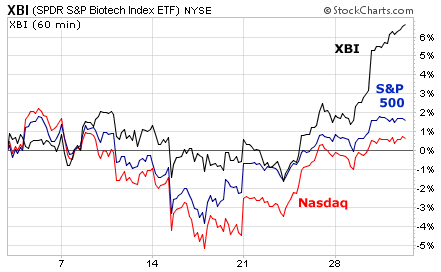 More importantly, multiple biotech indexes quietly broke out to 52-week highs last week, including XBI, the iShares Biotech Fund (IBB), the First Trust Biotech Index (FBT), and the Biotech HOLDRs Fund (BBH).
The combination of a strong fundamental argument plus a technical "signal" like that is one of my favorite setups in investing. A new acquisition trend is a major positive. And the recent breakout performance makes me believe the sector is poised to outperform over the next few months.
Individual biotech stocks offer the biggest potential returns, but investors looking for a "one click" way to take advantage of this overlooked trend should stick with a diversified fund like XBI, which doesn't put more than 6% of its assets in any one stock.
Regardless of how you look to play it, I expect biotech stocks to be one of the surprise winners over the next few months, especially if acquisition activity picks up.
Good investing,
Larsen