Japan's earthquake and tsunami dealt a huge blow to the semiconductor industry...
You see, Japan accounts for more than half the world's supply of silicon wafers. These are the tiny "blank pages" semiconductor designs get "printed" on.
Japanese companies like Shin-Etsu Chemical and MEMC Electronic Materials had to shut down wafer manufacturing at their plants in Northern Japan following the disaster. These plants account for an eye-popping 25% of global silicon wafer production.
Growth Stock Wire
readers know
I'm a big bull on the semiconductor industry
. But even I thought semiconductor stocks would take a hit after the quake. Although no major plants were destroyed, having 25% of the world's wafer supply on hold is a big deal.
Yet the big semiconductor index – SMH – barely sold off. In fact, shares are actually up a couple percent since March 10 (the day before the earthquake). Take a look...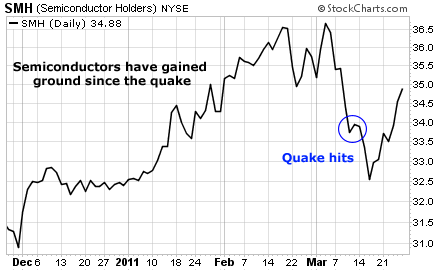 This strong action in the face of a major disaster is a sign of how strong the long-term trend is for semiconductors.
Remember... the driving force behind this uptrend is the
demand for gadgets like smartphones and tablet computers
. Smartphone sales jumped 72% last year – from 172 million units in 2009 to almost 300 million units in 2010. This year's numbers should easily surpass the 450 million mark.
Smartphones average about three times as much semiconductor content per phone as regular cell phones. And the earthquake won't dent demand for these gadgets one bit.
Investors have several choices for getting in on the semiconductor boom. Small-cap companies like Triquint Semiconductor (TQNT) remain exciting, high-potential plays. But a small company like this is also the most at risk of a major earnings disruption from supply-chain issues.
A safer bet would be semiconductor giant Intel (INTC). This World Dominator is
still a great bargain
. Or you could pick up SMH. It has a big weighting in Intel, but gives you exposure to a broader list of semiconductor names. Both choices offer slow and steady growth.
Finally, you've got the "picks and shovels" play. Taiwan Semiconductor Manufacturing (TSM) – TSCM for short – is the biggest foundry in the world. A foundry is basically a printing press for the companies that design semiconductors. The companies that design the millions of little chips simply send their plans to TSCM, which cranks out the finished products.
As long as the semiconductor boom continues, TSCM will be in big demand. (The company has also confirmed the earthquake didn't damage its operations.)
If you're still skeptical about the possible short-term implications of the Japan earthquake, wait for your favorite
semiconductor stock
to report quarterly results and update investors on its supply chains. I'll be shocked if there aren't at least half a dozen companies that lower their earnings guidance for the year based on supply-related problems.
But the long-term trend here is UP. And I still believe this big bull market is just getting started.
Good investing,
Larsen