The only guy who wins is the window maker.
The "broken window parable" is a favorite of economists. The lesson is, the rebuilding that follows the destruction of anything (such as a window) doesn't create a net benefit to the economy. Everyone loses... except the guy making the new window.
Japan just suffered the most devastating "broken window" in decades. That's the main reason why global markets tanked over the past week. The world, as a whole, is worse off following the disaster.
Japan's Nikkei index plummeted 17.5% in just three days. Giant companies like Hitachi and Sony posted double-digit losses in less than a week. And right now, investors are trying to figure out when they can jump in and grab those falling knives.
I'd rather try to find the few "window makers" that will benefit from what will be a multiyear recovery.
The most likely beneficiaries of the rebuilding are machinery companies. Caterpillar (CAT) and Deere (DE) specialize in farm and construction machinery. They'll see some extra orders come in as the cleanup starts over the next few months.
Two problems here, though... First, their valuations. Caterpillar has nearly quadrupled in the past two years. Deere's stock has almost tripled. As a result, both of these stocks are trading just under a super-rich six times book value. Second, any boost in Japanese orders will be a drop in the bucket to these giants. In 2010, Caterpillar's Asia-Pacific segment accounted for a mere 24% of sales. Japan made up only a fraction of that.
My favorite play on a Japanese recovery is Kubota (KUB), the Japan-based maker of farm and industrial equipment.
Besides its tractor business, Kubota makes a wide variety of industrial products, including wastewater treatment systems, pipes, water pumps, and even air conditioning systems. Although the company hasn't released an official statement, there's no indication of major damage at any of its Japanese factories.
Many investors have never heard of Kubota. With a $12 billion market cap, it's not a giant like Caterpillar ($65 billion) or Deere ($37 billion). Also unlike Caterpillar, more than 50% of Kubota's sales come from Japan.
In other words, Japan's rebuilding efforts could have a major impact on the stock. And we could see big earnings surprises over the next few years.
From a valuation standpoint, Kubota is a steal at 1.5 times book value compared to its larger peers. Kubota also trades at just over one times sales. Caterpillar trades at more than 1.5 times sales, Deere around 1.34.
And as you can see from the chart below, shares of Kubota have lagged its larger peers over the past two years.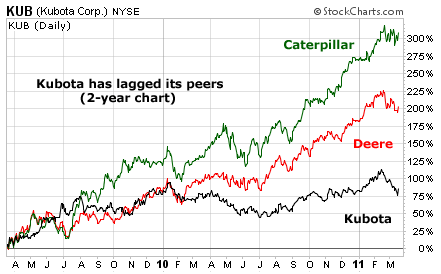 Shares of Kubota also offer the same exposure to booming agricultural trends that are spreading throughout Southeast Asia. Investors can expect the company to continue selling more tractors and rice harvesters to areas including China, India, and Vietnam. As a bonus, the company will get a multiyear boost in sales from domestic spending on its infrastructure products.
While last week's earthquake is a negative for much of Japan, Kubota is the closest to being that lone "window maker" to see some benefit from the destruction.
Good investing,
Larsen