The big story this week is the huge shift the Japanese earthquake has brought to the giant "
risk on, risk off
" trade I've been following for the last year.
You see, stocks and commodities have traded in lockstep over the past 18 months. Both asset classes are moving up and down according to sentiment toward global economic growth.
When folks are optimistic, they go "risk on" and buy traditionally riskier assets like stocks and commodities. When folks hear bad news and ominous economic reports, they flee stocks and commodities and flock to perceived safe havens like U.S. government bonds and the Swiss franc.
As you can see from the performance chart of the benchmark commodity index (blue line) plotted with the performance of the benchmark stock index (black line), it was 100% "risk on" between September 2010 and February 2011. Both stocks and commodities skyrocketed in response to continued E-Z-Credit operations of the Federal Reserve.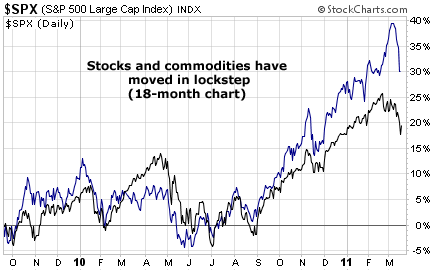 You'll also note, on the right-hand side of the chart, these uptrends have been smashed in the past week. The earthquake in Japan has sparked a massive selloff in stocks and commodities. Japan is the world's third-largest economy. Fears of global "ripple effects" are causing investors to go from "risk on" to "risk off."
The big "risk off" shift has caused rallies in the Swiss franc and U.S. Treasurys... and tremendous damage to the short-term uptrend in the stock market. The S&P bounced yesterday, but only after suffering several days of high-volume selling... which tells us large institutional money managers are cashing in profits made in the September-to-February rally.
The index also sliced through its 50-day moving average (DMA), which is a popular gauge of the market's short-term trend. It's the first time since early September this index has traded below this threshold.
The U.S. market's bearish action (and its violation of the 50-DMA) is nothing compared to the action in Japanese stocks. As you can see from the chart below, Japan's benchmark Nikkei average can't even smell its 50-DMA. The index has collapsed in response to the earthquake.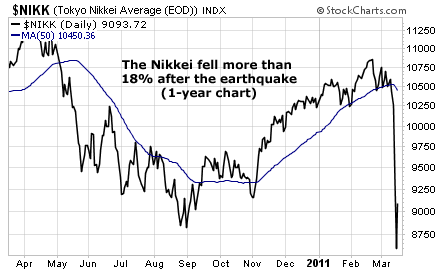 Contrarians should put this market on the "watch closely" list. After grinding out a bottom, Japan will likely enjoy a big "bad to less bad" rally.
Another big loser in the Japanese crisis is uranium stocks. Mainstream media outlets are competing with one another to see who can run the most fear-inducing headlines. They can't write "meltdown" or "next Chernobyl" fast enough. After all, those shockers are what get the Web traffic. Concerns over Japan's nuclear plants have clobbered all uranium stocks.
For a picture of this situation, note how the "ExxonMobil of uranium," Cameco, took a swan dive from the $40 level down near $28. Many of the smaller companies in this space have lost 33%-50%. It's a washout in the nuclear-fuel business.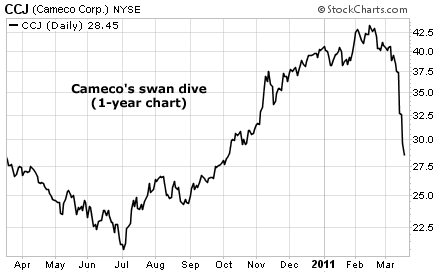 Just like Japanese stocks, this massive shakeout should lead to a terrific buying opportunity in uranium stocks. Nuclear power provides about 20% of U.S. electricity... and it factors heavily into China's and India's spectacular future energy demand.
What's happening in Japan is terrible, but the world isn't going to suddenly shut down this vital energy source. We're also keeping these stocks on the "watch closely" list.
In sum, contrarian traders looking to make safe, triple-digit gains as things go from "bad to less bad" should buy Japanese stocks and uranium assets soon... But there's no rush.
There's also no rush to buy stocks and commodities in the face of the current "risk off" liquidation. For now, put 'em on your watch list and get ready to buy when things have stabilized.
Good trading,
Brian