The momentum is cracking.
If you don't mind taking on the risk, shorting the broken momentum stocks here is a solid trade. A lower-risk option is to simply move to an out-of-favor area that's setting up for a breakout.
Take health care, for example. As riskier sectors – like technology – have sold off in recent weeks, the health care sector is holding steady. Take a look at the chart below...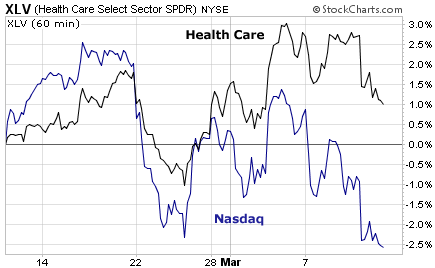 Fast-growing sectors like cloud computing and semiconductors can generate huge returns in just a few months. But slow-growth companies trading at cheap valuations offer a great alternative when riskier stocks look poised for a pullback.
In particular, drugmakers like Pfizer (PFE), Merck (MRK), and Abbott Labs (ABT) are all trading below 10 times earnings and yield 4% or more.
Of these three, my favorite "safe haven" stock over the next few months is Pfizer. Six months ago, I mentioned Pfizer as a safe way to play
China's emerging health care market
.
The stock is up about 14% since then, but there's a lot more upside over the next year or more.
You see, even though Pfizer is a cheap stock with solid fundamentals – like strong cash flow and a solid balance sheet – it's been in a decade-long downtrend. Patents on its blockbuster drugs like Lipitor and Viagra are set to expire over the next year and a half.
By now, though, the bad news has been priced in. My colleague Steve Sjuggerud
pointed to Pfizer back in June
. He said, "Drug giant Pfizer is trading at just six times this year's estimated earnings... I'm buying at record cheap prices."
The problem, Steve said, is "there's no uptrend yet. I know I'm swimming upstream to start... and that's not where I really want to be."
Fast forward to today: The recent action in shares of Pfizer shows the long-term downtrend is finally breaking.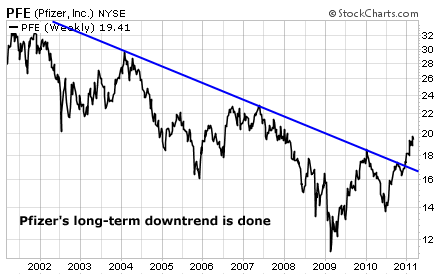 Analysts are expecting Pfizer to grow earnings by less than 2% over the next two years. Low expectations like that mean there's lots of room for pleasant surprises.
The company has 118 programs in its development pipeline, including 34 drugs that are either in the registration process or in phase III. It's clear Pfizer hasn't stopped developing drugs that could boost earnings over the next decade.
Based on the recent action in the health care sector, I expect investors to revisit a lot of solid names in this area. If you're looking for a sector that could generate profits even if the market pulls back, start your search here.
Good investing,
Larsen