"I will be the least surprised person in the world when silver goes to $100 an ounce."
This statement was made this week by legendary resource investor Eric Sprott. He was speaking at a reception for his company, Sprott Resources, one of the largest independently owned resource investment firms in Canada.
Eric has an exceptional track record. His peers describe him as the "Wayne Gretzky of the resource industry." He isn't the fastest or strongest person on the ice, but he always knows where the puck is going to be. In other words, Eric is light years ahead of his competitors when forecasting major trends.
Today, he sees silver going to $100 – about 170% higher than the current price. That's like oil prices trading at $283 a barrel.
Sprott believes the government will continue to inflate the market. He also sees strong demand from institutions and consumers as new silver ETFs launch. Finally, emerging markets like China are now importing silver.
All that stuff is bullish for silver prices. He's getting $100 an ounce using the "gold to silver ratio." Back in the 1800s, you could buy one ounce of gold with 16 ounces of silver. If gold climbs to $1,600 an ounce, Sprott figures, silver should trade at $100.
Now... over the last 100 years, the ratio has been a lot higher than 16. But this week, for the first time in 25 years, the ratio broke below 40. The trend is moving in Sprott's favor.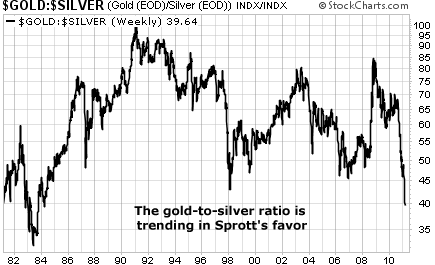 Before we go any further, I should say I'm no expert at forecasting silver prices. But if Sprott's forecast is even half-right – if silver goes to $70 an ounce – every silver company on the planet is significantly undervalued.
I just attended the Prospectors & Developers Association of Canada conference. It's one of the largest mining conferences in the world. There were dozens of small- and mid-cap silver companies in attendance.
Sure, most silver stocks have been pushing higher along with the price of silver. But these companies are not trading on $70-plus silver prices...
Each of these companies presents revenue and earnings models to its investors. These models project how many ounces of silver their company will produce in the future and where the price of silver will trade.
Nearly every silver company at the conference is forecasting silver prices under $25 an ounce in 2011. (Today, the price per ounce is over $35.)
That creates a great opportunity for investors. If Eric's forecast proves correct, the pure plays like Silver Wheaton and Coeur d' Alene will benefit. These companies are two of the major silver players in the industry. They operate all over the world, including South America, Mexico, the U.S., Chile, Portugal, and Australia. If silver doubles, these guys will explode.
But the really big opportunity will be in small-caps. Smaller companies will reap bigger earnings with higher silver prices. And they'll also become targets for takeover... at what could be huge premiums.
Over the past few days, silver has pulled back. That can be expected after a 50%-plus rise in the metal over the past six months. But it hit silver stocks hard. I suggest using this dip as a buying opportunity.
Good investing,
Frank Curzio