We've been keeping a secret... one that's played a big role in some of our biggest gains over the past six months.
Don't worry... our secret is perfectly legal. It involves no insider knowledge. But some say what we've been using to generate gains as high as 120% in four months is darn close to using insider information...
We've been using a proprietary market timing system known as the "Grail" to locate major stock market winners.
I know what you're thinking: "An early April Fool's Day joke?"
I don't blame you for thinking a trading "Grail" must be a joke. That's what I thought when our editor in chief Brian Hunt first told me about it. But after months of seeing this mechanical trading system work, I can tell you it's no joke. It's one of the most powerful trading tools we've ever seen at Stansberry & Associates. I've been in the business for 15 years... and I've never seen anything like it. (Although, I've heard plenty of claims from hucksters who have "found the Holy Grail" of the markets.)
While some mechanical systems are occasionally used with success, I've found most mechanical systems that blindly follow waves, moving averages, cycles, or momentum are no better at determining trading action than flipping a coin would be... despite their claims.
The Grail, however, is different from your typical mechanical system...
The Grail has allowed us to time a series of trades with astounding accuracy. Shortly after taking over our small-cap trend service, Penny Trends, Brian Hunt used the Grail to confirm the timing on his recommendation of small-cap uranium producer Denison Mines. His subscribers booked a 104% profit on the trade.
We also used the Grail to time our January purchase of natural gas producer Encana in the S&A Resource Report. Just after our Grail-timed purchase, Encana jumped 12% in two weeks. It was a major price breakout for the stock... which had spent the previous year drifting lower. We nailed the start of the uptrend almost to the day.
In September, we used the Grail to time a silver and silver-stock trade. S&A Resource Report readers who bought the stocks Matt "re-recommended" made more than 60% in just three months... one such trade eventually closed out for a 350% gain.
These are just a few samples of the incredible timing calls the Grail has made since we found out about it last year. There are many more...
While the Grail has many uses, one of its most important features is its ability to pinpoint assets that have suffered a major fall, spent time digesting the move, and are now in a state of "compression."
"Compression" is a term used by traders to identify assets that have moved from a period of high volatility to a period of low volatility. Compression is what happens after an asset has fluctuated a great deal and exhausted many market participants... who then reduce their trading activity. It's often the "calm before the storm" of the next major move.
For an example of compression, let's look at one of the top "table pounding" recommendations we received last year from the Grail's creator, Denny Lamson.
In late August, Denny noted how silver had enjoyed a big rebound in 2009 off its credit crisis lows. This big run was followed by a big correction in early 2010. Silver fell from $19 an ounce to $15 an ounce... and then began drifting sideways. During this sideways period, silver did less and less "wiggling." Silver's trading range became smaller and smaller. Denny compared silver to a coiled spring ready to release.
On August 25, silver exploded out of its compression stage and soared from $18 to over $24 in two months... a huge move for such a short time. The metal eventually ran to $30 per ounce.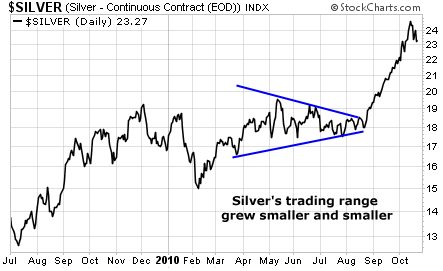 Of course, the surge in silver was no surprise to us. We've been predicting surging gold and silver prices for a long time. What was impressive to us was the precise timing signal the Grail generated on an asset we felt was due for a run higher. Like pressure building under the earth prior to an earthquake, pressure was building in silver – and the Grail spotted it.
And this is no isolated event. The Grail is like a radar system traders can use to monitor the stock, bond, commodity, and currency markets to find unique compression situations. Marrying this "radar" with contrarian-focused fundamental analysis produces fantastic results.
Another low-risk/high-reward trading set up the Grail identifies with regularity is moments of "positive divergence."
Longtime S&A subscribers know you can make big, safe profits when an asset goes from "bad to less bad." Steve Sjuggerud has turned this type of investing and trading into an art form in
True Wealth
... And Editor in Chief Brian Hunt has pinpointed many huge "bad to less bad" trading opportunities in his
DailyWealth
Market Notes column.
These trades involve finding assets that have suffered major selloffs... where anyone who could possibly find a reason to sell the asset has already sold. This "blown out" feature makes these trades incredibly safe. The risk has been wrung out of the trades. Every possible seller has reached his "puke point" and given up.
At this point, the asset typically becomes incredibly cheap and hated... You'll find assets selling for 33 cents on the dollar. When assets get this cheap, just a bit of "less bad" news can send them screaming higher... like 100% in just a few months.
Denny says these sorts of trades exhibit "positive divergence." This is where the Grail signals an asset's downside momentum is exhausted and it has formed a bottom. It then "diverges" from its downtrend to register positive gains... and sets up for a big rebound.
This idea is likely the ultimate trading system... one that offers low risk (because everyone has sold), but tremendous upside (because the asset is so hated and cheap).
This leads us to one of Denny's top ideas right now... in the secondary education sector. We warned you before about this sector (also called "for-profit education"). It has suffered a huge fall. Allegations of fraud and questionable lending practices crushed many of these educators by 75% last year.
Now, the Grail is signaling this sector is primed for a solid rebound, especially small-cap Corinthian Colleges (COCO).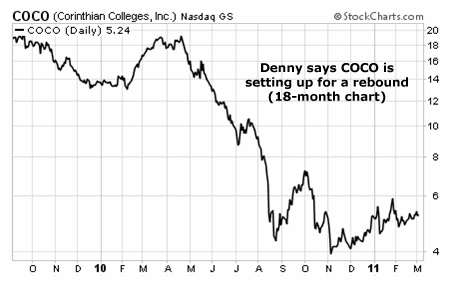 Keep an eye on this potentially big winner... and make sure to learn several amazing signals this technology has generated in the past few years. To learn more,
click here
.
One of our favorite uses of the Grail technology is to take Stansberry & Associates' value-focused research and ask, "What does the Grail say about this?" That allows us to find precise buy points for our recommendations and create huge increases in the risk/reward profile of our trades. An example of this phenomenon at work is Dan Ferris' recent purchase of World Dominating Divided Grower Medtronic (MDT) in the
12% Letter
...
Medtronic dominates the U.S. pacemaker and spine-implant market. For years, the company has used its dominant position to become one of the world's great dividend-paying stocks. The company has increased its dividend every year for the last 32 years in a row. Few companies will ever approach that claim. It's one of the great wealth-compounding vehicles in the stock market.
Last summer, concerns on the economy and the broad market correction hammered MDT shares. Soon after the decline, Dan pointed out this dividend machine offered tremendous value... and a cheap way to own a steady and growing dividend stream. Around the same time, Ron and Denny told us the Grail was screaming, "BUY MEDTRONIC"... and that it was likely due for a huge jump higher. Below is a chart from early 2010 to the time up to the Grail's buy signal.
As you can see, things were bad for the stock.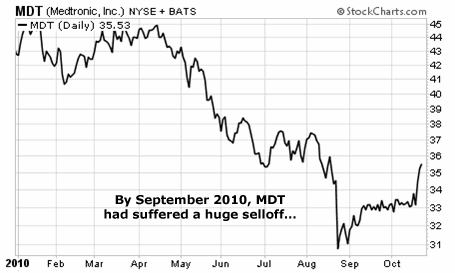 Let's fast-forward to today... Medtronic has soared 16% (a huge increase in value for a World Dominator) as things have gone from "bad to less bad"... and the Grail called it.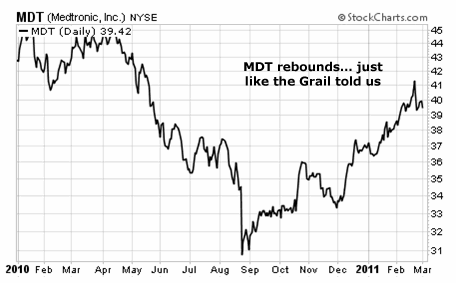 This kind of situation is one of the most exciting applications of the Grail technology. Ron and Denny plan to "overlay" this amazing timing system on our S&A portfolios to help generate tremendous risk/reward trades.
If you've ever wanted to make large, short-term gains from our safest stocks, you're absolutely going to want to be a Grail reader. Right now – and for a limited time – we are offering the best deal you'll ever see for this service.
You can click here to learn more
.
Regards,
Porter Stansberry