Last summer, I wrote about one of the biggest developing tech trends in years –
cloud computing
.
Cloud computing is the all-encompassing term that describes your ability to save pictures, files, and data on outside storage networks. If you're sharing photos on Flickr or using Google to save spreadsheets, you're using cloud computing.
Big cloud computing names like Salesforce (CRM) and VMware (VMW) were growing at hyperspeed. More importantly, the stocks were holding up while other tech stocks were getting hammered. I pointed out that this "relative strength" was a strong signal these stocks would be winners once the market regained its footing.
I mentioned five stocks in last summer's essay: Salesforce, VMware, Red Hat, Tibco, and Novell. The average gain from mid-June to the end of the year on these five was 35%. That's huge compared to the broad tech sector, which rose 16% during the same time.
Now, however, the opposite setup is developing. After a six-month bull market, tech stocks are starting to look shaky. And these cloud computing names are faring much worse. Take a look...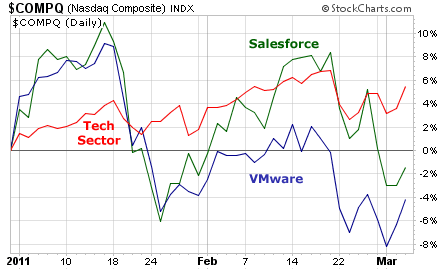 This is the same chart I showed back in June, except this version shows this year's performance so far. As you can see, instead of outperforming during a minor selloff, Salesforce and VMware are down at least 10% over the last month and a half.
This type of action is a signal for investors to get out. In my original piece, I pointed out that "broad market weakness helps separate the winners from the losers." Cloud computing stocks were winners last time around. Based on the weakness we've seen in just a few weeks, these stocks are poised to play the loser role for at least the next couple months.
If the technical action isn't convincing enough, the executives have been dumping shares during the big rally. Over the past six months, insiders at Salesforce sold over 2 million shares. At Red Hat, a whopping 4 million shares were sold over the past six months. That's more than 80% of all insider holdings.
VMware and Red Hat both trade at an optimistic 45 times forward estimates. Analysts expect Salesforce to grow earnings by 13% this year, and by 33% in 2012. But with the stock trading at 95 times 2011 earnings expectations, this growth looks priced in. And these companies' profits could start getting squeezed as tech giants like Oracle and Microsoft catch up.
Cloud computing will remain a major trend in the tech space for many years. That doesn't necessarily mean investors will see huge gains from these stocks in 2011.
If you bought on my recommendation this summer, congratulations. It's been a good run. But now it's time to take profits.
Good trading,
Larsen