On Tuesday, one of America's favorite tech stocks crashed after reporting earnings.
I'm talking about Hewlett-Packard, the bellwether personal computer manufacturer.
As you can see from the chart, investors were caught off-guard by HP's disappointing report. Shares plunged more than 9%. That's a big loss for a company with a market-cap north of $100 billion.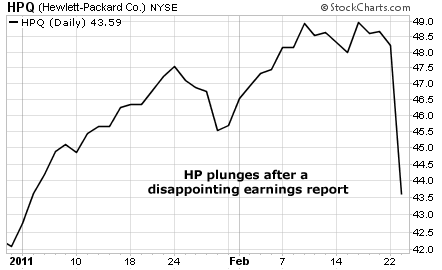 I'm not surprised at all.
There is a fundamental change taking place in the PC industry. Consumers are buying tablets instead of laptops. Tablets are lightweight touchscreen computers. Most people use tablets to play music, watch movies, send e-mails, check the weather, and surf the Internet.
HP is a major seller of laptops. In fact, it's the company's largest segment. To make matters worse, HP is releasing its own tablet this summer. The company is about to cannibalize sales in its PC segment.
According to Goldman Sachs, tablets will replace one in every three PCs in 2011. That forecast was made in December 2010. Back then, Goldman predicted Apple would sell only 37 million iPad tablets in 2011. Today, those estimates are north of 55 million – 50% higher than the original forecast.
This massive growth in tablets has forced other big-cap tech companies to change their business models. For example, Microsoft CEO Steve Ballmer recently said the company's "job one urgency" is bringing a tablet to the market.
Semiconductor giant Intel said it will increase capital spending in 2011 to $9 billion. To put that in perspective, that's a 75% increase from 2010. I'm sure most of this cash will be used to penetrate the tablet market.
If you own Microsoft, Intel, or HP, these companies have plenty of cash on their balance sheets to buy their way into the tablet industry. Also, they're incredibly cheap at current levels. In other words, don't short these stocks based on their late entry into one of the hottest growth markets in tech.
A better play is to buy the small- and mid-cap semiconductor companies that make the parts for tablets. These companies include TriQuint Semiconductor, Cirrus Logic, Broadcom, Skyworks Solutions, and Atmel. Other semiconductor names will be exposed when new tablets hit the market in 2011.
Most of these stocks have pulled back more than 7% following the recent selloff. It may be a good time to start scaling in. If the tablet industry grows at just half the rate of forecasts, these stocks will have plenty more upside in 2011 and beyond.
Good investing,
Frank Curzio