There's been a startling development in the past week, suggesting this popular sector could see a major pullback over the next three months.
I'm talking about retailers. Over the past two years, the gains have been nothing short of astronomical. From the March 2009 lows, the S&P Retail Fund (XRT) has outperformed the S&P 500 nearly two to one.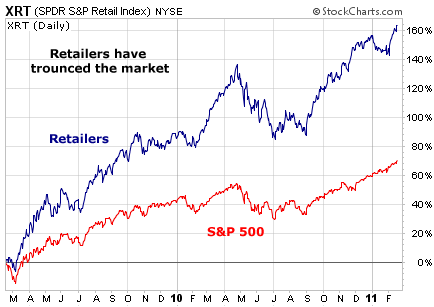 The party in retail stocks is about to come to an end.
You see, last week, FedEx issued a terrible forecast. The global packaging and shipping giant lowered its earnings estimates for next quarter from $1.04 to $0.80. That's a 23% decrease.
FedEx is viewed by many as a leading economic indicator for retailers. Retailers use the company to ship their products. If FedEx expects to ship more products next quarter, that's a positive for retailers. If FedEx issues a weak forecast – like the one from last week – that's a red flag.
The winter weather will also hurt retailers' results next quarter. Several huge storms this season had consumers shoveling their driveways instead of shopping.
Finally, most companies in this sector are vulnerable to increases in the price of cotton. Saying cotton prices are at record highs does not do this commodity justice. Cotton prices are trading at levels not seen since the Civil War.
So far, retailers have done a great job passing on higher costs to consumers. They also restructured their supply chain to better gauge inventory levels during peak and non-peak seasons.
But this sector has been on a tear. The top five holdings in the S&P retailer fund are trading at an average forward price-to-earnings ratio of 32. That's more than twice as high as the average P/E ratio for companies in the S&P 500. In other words, most retail stocks are priced for perfection.
We saw what happens to expensive companies that miss earnings estimates. Cloud-computing company F5 Networks plunged 30% after missing earnings estimates. Networking giant Cisco dropped 15% after reporting earnings. I think we'll see similar pullbacks in retail stocks when they report earnings next quarter.
I suggest taking profits in high-flying retail stocks. There are too many headwinds for these companies to overcome in the short term.
Good investing,
Frank Curzio