I was talking about Schlumberger, Baker Hughes, Halliburton, and Weatherford. These oil services companies are expected to grow earnings by more than 35% in 2011. They trade at less than 20 times earnings.
Each one reported blockbuster earnings results in January. And as you can see from the chart, these stocks are up roughly 10%-20% in the past 30 days.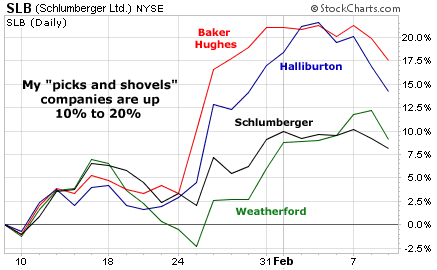 My thesis was simple. OPEC is projecting exploration and production (E&P) companies like ExxonMobil and Chevron will spend a massive $500 billion over the next 12 months. That's an 11% increase from last year.
They'll spend that cash to increase reserves with new oil exploration projects. And OPEC said most of this capital will be used to fund projects outside the U.S.
Each one of the companies I highlighted has close ties with large E&P players. They also receive more than 65% of sales outside the U.S. So far, my thesis has been spot on.
But this isn't the only catalyst that will push oil services companies higher.
On September 15, the U.S. Department of the Interior (DOI) announced oil and gas producers operating in the Gulf of Mexico will be required to set permanent plugs in non-producing wells. Also, production platforms no longer in use must be dismantled.
Wells, platforms, and pipelines that are no longer in production are called "idle irons." Old offshore infrastructure increases the risk of an oil spill or other environmental damage. Following the BP oil spill disaster, the government is taking extra precautions to limit risks in the Gulf of Mexico.
Regulators require these "idle irons" to be dismantled over the next 12-36 months. According to the DOI, there are 3,500 non-producing wells in the Gulf of Mexico. Also, roughly 650 production platforms will need to be dismantled.
It's difficult to calculate the costs of dismantling "idle irons." But the United Kingdom is in the process of decommissioning 260 offshore platforms. According to consulting firm Deloitte and research firm Douglas-Westwood, the costs could run as much as $30 billion over the next 30 years.
The oil services companies are sure to get a large chunk of this business in both the U.S. and the UK. If that's the case, these four oil services stocks will continue to surge higher.
Good investing,
Frank Curzio