Two weeks ago, Verizon reported great results. The company boasted that it added 872,000 subscribers during the last three months of 2010.
Somewhere in Hong Kong, a China Mobile executive saw that number and laughed.
During the same three-month period, China Mobile added over 14 million new subscribers.
The one problem with investing in big China stories like this is that Wall Street usually gets way too excited. Take Baidu, "China's Google," for example. It trades at a whopping 48 times earnings expectations. And analysts are expecting earnings to grow 60% in 2011 and another 43% in 2012.
That's not the case with China Mobile, which controls 70% of China's mobile phone market. This $200 billion stock is trading at less than 11 times 2011 earnings. It also pays a 3.3% dividend. Investors have chased after smaller, faster-growing names like Baidu, leaving shares of China Mobile at bargain prices. (
It's a lot like what we're seeing with Intel right now
.)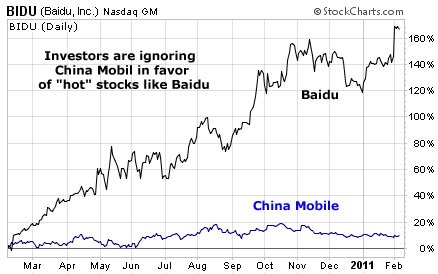 One of the reasons shares are cheap is that China Mobile is expected to grow earnings by a mere 4%-5% over the next year.
But low expectations can work in your favor
. Any upside earnings surprise over the next year could translate into double-digit gains. Not bad for a low-risk stock with a price-to-earnings ratio barely above 10.
One of the benefits of being a big, well-established company like China Mobile is that you run a lower risk of the accounting problems U.S. investors worry about when they buy Chinese stocks. Big institutional investors (like Matthews Asia) do tons of research on the company and own large chunks of the stock.

Looking longer-term, China Mobile has an early lead in the latest wireless technology – 4G. People in the U.S. are familiar with 4G thanks to lots of advertising by Sprint and others. China is a few years behind the U.S.
China Mobile is planning a trial run of 4G coverage in six cities this year, including Shanghai. No one is expecting any benefit to earnings from 4G in the next couple years. But if the market develops quicker than people expect, China Mobile could go from a great value play to a more "exciting" growth name.
Good investing,
Larsen