It's one of the clearest trends on Earth today... In the first 11 months of 2010, China imported 30% more natural gas than the same period in 2009. India's natural gas demand is also soaring. Take a look at the natural gas consumption in China and India (aka "Chindia") over the past 25 years. You'll notice a pattern...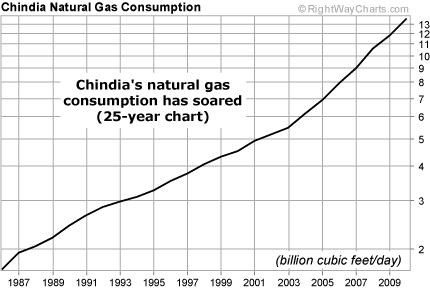 We'll bet demand only increases this year. And China's betting more than $1 billion on the same result... Today, Chinese oil giant CNOOC announced it's buying stakes in several
shale oil
and gas leases owned by Chesapeake Energy for $570 million. The deal entitles CNOOC to a 33% stake in Chesapeake leases covering 800,000 acres in northeast Colorado and southeast Wyoming. CNOOC will also fund two-thirds of Chesapeake's share of drilling and other costs up to $697 million.
The deal is similar to the October 2010 CNOOC-Chesapeake arrangement where the Chinese company bought one-third of Chesapeake's 600,000-acre Eagle Ford shale project for $1.08 billion. (This marked the first major investment by a China state-run company in onshore U.S. energy reserves.)
Editor Matt Badiali's S&A Resource Report newsletter subscribers bought into Eagle Ford long before China. (Our friend Cactus Schroeder – a Texas wildcatter – told us about the development.
This week, Matt sent me an article that makes his natural gas thesis even more attractive. The article argues the U.S. doesn't have as much natural gas as most folks believe because the market is "confusing possible resources with proved reserves."
The belief that we have more gas than we could ever use is pushing the government to use natural gas instead of oil for transportation fuels. Also, two
liquefied natural gas (LNG) exporters
are applying for permission to add extra export facilities. If granted, the two terminals will have the capability to ship 3.4 billion cubic feet of gas a day – 5% of total production.
The exporters believe natural gas will stay cheap (less than $5 per mcf) through 2023, attracting European and Asian buyers. So at the same time, the appetite for natural gas in China and India (aka "Chindia") is booming, the U.S. wants to increase its usage. Matt says this will eventually lead to an "oh shoot" moment when the natural gas supply can't keep up.
Last July, Matt told his readers:
As you may know, drilling shale formations like the Eagle Ford for the natural gas trapped inside has been the most important trend in the U.S. energy sector over the last decade. Developing the tools to extract shale gas is singularly responsible for an explosion of U.S. natural gas reserves. Now, oil and gas explorers are applying those tools to the biggest shale formation in Texas.
I'd love to give you some firm figures on the potential Eagle Ford production. But drilling there is so new, it's impossible to make a reliable estimate on how much oil and gas it holds. Just know that the Eagle Ford is going to be a monster. One of the oilmen I rode with said it will easily be the biggest discovery of his more than 30-year career... and maybe the largest in the history of the U.S. oil industry.
Matt recommended EV Energy Partners and Vanguard Natural Resources as Eagle Ford plays. In six months, readers are up 40% and 55%, respectively. More gains are on the way... and both stocks yield more than 7%.
In the January issue of
Resource Report
, Matt recommended one of the largest owners of gas reserves in the world (only majors like ExxonMobil and ConocoPhillips own more). And it operates in almost all the best shale gas plays in North America.
The stock is cheap, shareholder-friendly, and pays a safe and inflation-proof dividend. Its vast portfolio of undeveloped reserves also acts as a large "call option" on rising gas prices.
Even if gas rises 25% from these levels, the stock will enjoy a huge uptrend. Matt's latest issue came out this week. In it, he recommended a new "oil insurance" play... which could jump 128% if oil prices spike. To learn more about the
S&A Resource Report
and access his latest idea,
click here
.
Regards,
Sean Goldsmith