Interest rates rallied to a new 10-month high yesterday. The yield on the 30-year Treasury bond surged to 4.64% – breaking above its December high and beginning a new move higher. Here's an updated look at the chart...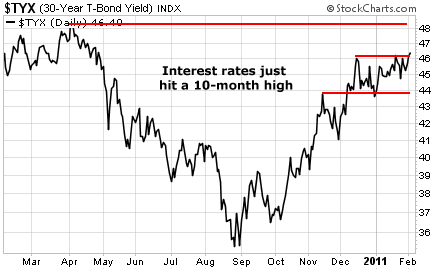 Remember, as interest rates move higher, bond prices move lower. So, just about everyone who bought long-term bonds in the past two years is now underwater on the trade. This includes mom and pop investors who piled into the long bond at record-low interest rates last August; foreign countries like China and Japan, which need to do something with their trade surplus dollars; and our own Federal Reserve.
Think about this... not only is our government running trillion-dollar deficits because the fools in Washington can't stop spending, but the Fed – through its quantitative easing program – is investing the borrowed money in our very own Treasury bonds, which are losing value almost daily.
Borrowing money to buy bad investments is not the path to prosperity.
Yet the stock market doesn't care. The S&P 500 closed at a new 52-week high on Tuesday. It's up 3% so far in 2011, and up 15% since long-term interest rates started to rise last September.
"You have to be bullish," argues the ever-growing chorus of cheerleaders on the financial networks. "The Fed is on our side," they shout, "and it's the third year of the presidential cycle."
I can't really argue with that last point. Stocks do have an uncanny knack for moving higher during the third year of a president's term. In fact, as my colleague
Steve Sjuggerud recently pointed out
, stocks have gone up every third year of a presidential election cycle by an average of 22% since 1940.
So, I have to concede stocks will likely close December 31, 2011 higher than where they opened on January 1. It's the time in between that worries me.
You see, there were two other times in my career when long-term interest rates rose dramatically. Both occurred during the third year of a presidential election cycle. One was in 1999, when the yield on the 20-year Treasury bond rose 21% between April and December. Stocks peaked three months later.
The other time was in 1987. The 30-year yield rose 21% between April and August. The stock market crashed two months later.
A similar rise this time would put the 30-year yield somewhere around 4.90%. That's the breaking point in my book. And we're slowly inching closer toward it.
Go ahead and play in the stock market if you must. It has defied gravity and a host of technical indicators that have kept me cautious. But keep an eye on the 30-year Treasury yield. If it pops above 4.90%, it will equal the moves we saw in interest rates back in 1999 and 1987. Both periods were followed by sharply lower stock prices.
Best regards and good trading,
Jeff Clark