Earnings season reminds me of watching a car race. There's always bound to be a crash.
This season's crash happened earlier this month when F5 Networks (FFIV) plummeted 21% after reporting earnings.
Growth Stock Wire readers knew this was coming
. But many F5 investors were stunned. F5's numbers weren't "bad." The company beat earnings expectations by a solid margin.
In 10 years of research, I've seen this setup too many times to count. F5 is a solid growth company that makes software used in
cloud computing
– a huge growth trend I wrote about last summer. Yet shares took a dive on solid results.
The problem was that investors had been buying F5's stock hand-over-fist for over a year. Before taking a dive, shares had almost tripled over the past year. When a stock goes up in a straight line month after month, investors' expectations often increase right along with the share price. These building expectations leave less room for even the slightest disappointment.
In F5's case, a "good quarter" wasn't good enough.
There's a super-simple way for small-cap traders to sidestep the kind of crash F5 shareholders suffered. And if you keep an eye on this one number, you can multiply your long-term results six times over... Before I get to the details, though, take a look at this chart: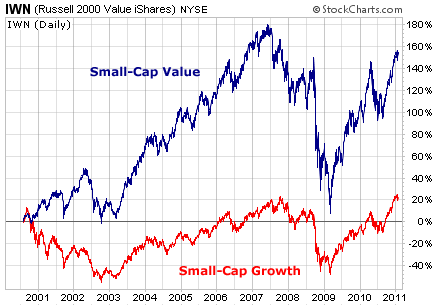 The Russell 2000 is the most-recognized index for small-cap stocks. Russell divides this index into two separate categories: growth (the red line above) and value (the blue line).
Price-to-book is one of the main factors used to determine which stocks go into which index. Stocks with a lower price-to-book ratio go into the value index. Since late 2000, the cheaper stocks – the stocks with lower price-to-book numbers – have returned six times as much as their more expensive peers.
A company's book value is a simple way of totaling its assets minus its liabilities to find intrinsic value. You might pay five times book value for a World Dominating company like Coca-Cola. That company is worth much more than the value of its factories.
But even after falling more than 20% off its highs, F5 is still trading above eight times book value. Other high-flying stocks like Netflix (NFLX), Salesforce (CRM), and VMWare (VMW) all trade at 10 times book value or higher.
The fact that a stock is expensive doesn't mean it's destined to crash. After all, Netflix was expensive when it traded at 25 times book value last year. Now it's at 50.
But like I said, a high valuation means high expectations. These companies are priced to perfection. Anything short of that could mean an F5-like crash.
For more safety and better long-term results in your small-cap portfolio, stick with the value names.
Good investing,
Larsen