Verizon isn't growing anymore. Neither is AT&T.
Verizon's earnings are expected to increase less than 1% in 2011. AT&T is facing a similar problem. And Standard & Poor's downgraded both companies' debt last week, noting they face increasing competition in every part of their businesses.
If you want growth, you have to go to China.
In developed markets like the U.S. and Europe, more than 90% of the population uses mobile phones. But according to recent data from China's Ministry of Industry and Information Technology, that number is only 62.5% in China.
What most investors don't realize is the real growth opportunity is in 3G – the standard for mobile phones that can access the Internet, download videos, and more. It's the key that allows companies to charge $50 to $100 or more per month for data packages.
Currently, 3G users make up less than 5% of China's mobile phone subscribers. That translates to less than 3% of China's total population. That's a big growth market!
In fact, China's transition to 3G is such a big deal that China's government set a goal of having 150 million 3G subscribers by 2011. There were less than 20 million 3G users in China back in March when the government made the announcement.
Since then, the number of 3G users in China has almost doubled. Considering the low starting point, this trend should continue for years.
The best play on China's wireless market is China Unicom (CHU). Although it only has about one-third as many subscribers as China Mobile (CHL), China Unicom has the inside track on the country's shift to 3G. In recent months, China Unicom has been adding about one million 3G subscribers every month.
It's also the exclusive carrier of iPhones in China.
According to analysts at Deutsche Bank, about three quarters of all of China Unicom's iPhone users are China Mobile subscribers. This is a solid indicator that the company is stealing market share from its big brother.
These new iPhone users are also much more lucrative for China Unicom. They pay more than six times as much per month as traditional 2G customers.
As you can see from the chart below, shares of China Unicom have pulled back more than 10% from their September highs.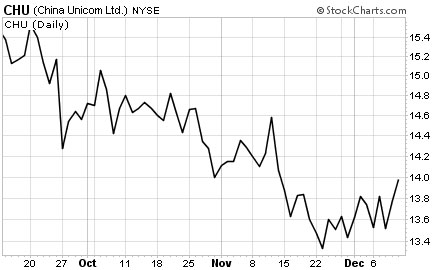 In a market where so many great growth stocks are already at 52-week highs, I love seeing a 10% pullback in a big-growth name like this.
Along with China's online travel dominator Ctrip (CTRP), China Unicom is an emerging market "
trophy stock
" you should keep an eye on... and look to buy during corrections like the one we just saw.
Good investing,
Larsen