Imagine investing in Amazon the day after it started trading in 1997... You would have made over 7,000%.
What about Baidu, China's answer to Google? If you bought Baidu the day after its initial public offering in 2005, you'd have an eightfold return.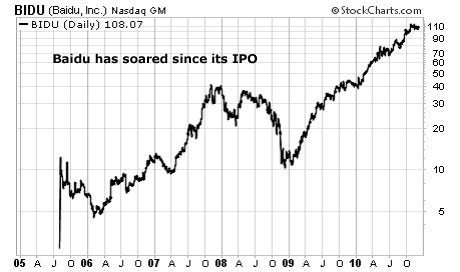 It would have been crazy to buy Baidu the day after it became a public company. After all, the China-based online search engine more than doubled on its first day of trading. And it's certainly been a bumpy ride for shareholders. But the stock has jumped from $12 to $110 over the past five years.
The reason for the enormous gain is simple. China has over 400 million Internet users. If they want to search online, Baidu is their first choice. While 400 million is an incredibly high number, it only amounts to 32% of China's population.
To put these statistics in perspective, more than 75% of the U.S. population uses the Internet. That's why companies like YouTube and Amazon have hundreds of millions of people going to their sites on a monthly basis.
Looking at China, it's just a matter of time before its Internet penetration rate catches up to the U.S.'s. It took about 12 years to go from 15% of the U.S. population using the Internet to 75%. If China follows in the same footsteps, in 12 years, over 975 million Chinese citizens will be using the Internet.
These numbers are staggering. That's almost 600 million new Internet users looking to shop online and watch videos.
That's probably why Youku (YOKU) and Dangdang (DANG) soared after becoming public companies on Wednesday. Youku surged 161% to $33 and Dangdang jumped 85% to $30. These companies also moved sharply higher on their second day of trading.
Youku is the YouTube of China. It allows users to search, view, and share video content. Based on its IPO filing, the company claims it gets 203 million monthly unique visitors. To put that in perspective, that's almost twice as many monthly unique users as eBay.
Dangdang is considered the next Amazon. It's China's largest online book retailer. The company is beginning to sell other products like clothes, electronics, and almost anything you can think of. According to several studies, of the 400 million Internet users in China, only 130 million shop on the Internet. So there's plenty of growth here.
Most of you reading this may feel like you missed the boat on Youku and Dangdang. After all, these stocks skyrocketed right out of the gate.
But I believe these companies will follow a trend similar to Baidu's. Investors will book short-term profits. That will cause the stocks to pull back over the next few months or so. That's when I would use the opportunity to scale in.
Based on the enormous growth potential in Internet usage in China, these companies have the potential to grow their market caps into the hundreds of billions. Huge gains are possible if just half the population in China starts using the Internet.
Put these stocks on your watch list. Once they come down, I suggest buying shares and putting them away. In a five-year period, I wouldn't be surprised to see 800% gains or more.
Good investing,
Frank Curzio