We're getting a huge buy signal from an overlooked area of the tech sector. If we get in early on an uptrend here, the gains could be as high as 200% or more in the next year.
Before I get to that, let me back up...
Over the summer, I spotted a few exciting trends developing. First, I noted how well
cloud computing plays were holding up
amid an ugly market. A few weeks later, I saw
a similar move
in a little-known biotech equipment maker. Since my write-ups, the stocks I mentioned have averaged more than 35% gains. That's about three times the return of the S&P 500 over the same time.
In both cases, we saw a great fundamental story confirmed by strong action in the stocks.
The key was finding "relative strength." This means finding stocks that are in the process of pulling away to the upside, leaving the rest of the market behind. It's one of my favorite methods of finding profitable trends that can last for months.
And right now, I'm seeing that setup developing in part of the tech sector that most investors never even consider. I'm talking about semiconductors. And we just got a huge buy signal from the sector. Take a look...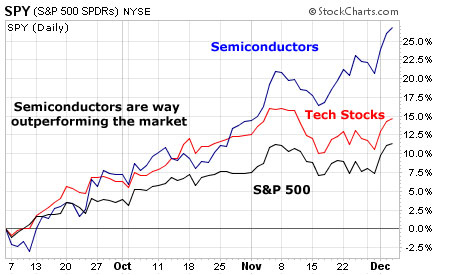 Judging by the big semiconductor fund SMH, semi stocks have outperformed both the S&P 500 and the broader tech sector. More importantly, SMH broke out to a new high over the past month while the broader indexes pulled back in late November.
With this breakout,
semiconductor stocks
are just starting the first leg of a major uptrend that could last for months or even years. During the bull market for semiconductor stocks that lasted from late 2002 to early 2004, the Philadelphia Semiconductor Index more than doubled, and dozens of small semiconductor stocks jumped 200% or more.
That bull market happened just as investors were realizing millions of new smart phones and laptops would need lots of semiconductors.
Today, semiconductor companies are getting a similar tailwind from the "gadget trend." There's been explosive growth in the gadget market, including iPods, iPhones, now the iPad... and all their competitors. Semiconductor companies make the millions of small electronic parts needed to make these gadgets.
According to tech research giant Gartner, tablet computer sales will reach over 54 million in 2011. That's a jaw-dropping 181% gain. Gartner believes three years from now, tablet sales will top 150 million units – almost a 700% increase in the market.
The market for these gadgets now includes hundreds of millions of consumers in China, India, and Latin America. So the growth is no surprise. And it's going to continue for years.
Investing in SMH is a safe, low-risk approach that could generate an easy 25% return over the next six months. For much bigger gains, look for smaller semiconductor companies that make the parts that go into tablets. To find out this information, you can use sites like
www.isuppli.com
. Or search for your favorite gadget and include the word "teardown." That will often lead you to helpful sites with lists of parts.
Some of the best names that appear in these teardown lists include Broadcom (BRCM), Cypress Semiconductor (CY), STMicroelectronics (STM), and TriQuint (TQNT).
Many of these stocks have run up over the past month. TriQuint, for example, is up more than 25% since the beginning of November. So the safest way to play this group is to wait for a 10% pullback before you buy. Being patient will increase your chance of scoring a double or triple over the next year.
This is a huge, long-term trend that could be good for hundreds of percent gains. And it's just getting started.
Good investing,
Larsen Kusick