By now, you know half the reason the gold price is set to rise: People are fleeing paper currencies for "real wealth," including gold, silver, and other hard assets.
But even without this huge new demand, gold prices would likely rise over the next 10 years or longer. That's because of the other half of the equation: supply.
Gold is facing a twofold supply crunch right now. And I expect that crunch to support gold prices for decades. Let me explain...
In 2006, South Africa was the world's largest gold producer. It had held that spot forever. It averaged 16.6 million ounces per year through the 1990s. Gold production peaked in 1993 at 18 million ounces per year.
By 2009, it had dropped three spots, tying the U.S. for the world's third-largest gold producer. In the intervening years, production fell an average 6.3%. In 2009, the country only produced 6.5 million ounces... about a third of its peak.
Several major gold mines closed because the mines lacked proper electricity... and even with gold prices soaring, there wasn't enough money to keep the lights on. This is happening all over the world.
Take a look...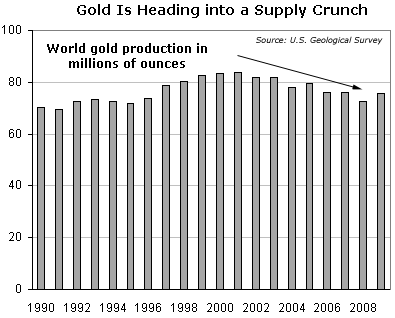 Major gold mines all over the world are suffering lower output. Gold production had declined steadily over the last 10 years.
In short, all the easy ounces are gone. These days, it takes a whole lot more rock to produce an ounce of gold. And even rising gold prices haven't kept pace with the cost of production at many mines around the world.
That's the first reason gold supply is tight. The second is government sales...
Over the last decade, 11 of the 20 largest gold-holding central banks (including the International Monetary Fund) sold gold. Those countries dumped 24% of their collective holdings. (Switzerland's central bank sold 60% of its gold holdings over the last 10 years.)
In total, they dropped 124 million ounces on the market since 2000... That's roughly 15% of the average annual mine production over that same time.
With the gold price nearing all-time highs, governments are reversing course. Some are actually buying gold. And the IMF cut sales by 40% in October.
Here's the thing: Markets work. Mine production is down. Central banks quit selling. And, of course, demand is rising. These add up to higher gold prices.
At some point, years and years down the road, higher gold prices will turn unprofitable mines profitable again... and we'll see tons of new supply. And maybe when we see South African gold production at all-time highs again, I'll sell my gold. But that's decades away.
Good investing,
Matt Badiali