On November 14, investors in Cisco sprinted for the exits.
That's the day management said it would miss order expectations by $500 million. To put that in perspective, instead of the technology giant growing orders by an expected 3% next quarter, it expects a decline of 6%.
The stock plunged 20% after the news – losing more than $25 billion in market cap. It was one of the worst-performing days in Cisco's history.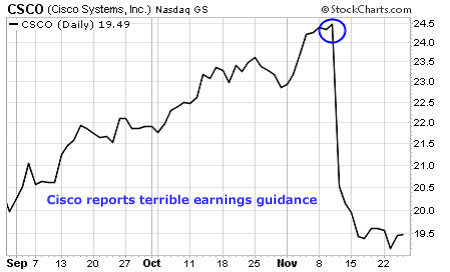 Cisco is the largest manufacturer of networking equipment in the world. Most investors view the company as a bellwether for the technology sector. That means investors use Cisco as a leading indicator of future trends in the technology industry.
So when Cisco said business would be weak, many stocks in the technology sector fell on the news. Juniper Networks (Cisco's largest competitor) fell more than 7% on the same day. Also, analysts expressed concern about small-cap companies like NetLogic and Jabil Circuits – 15% to 25% of their sales come from Cisco.
But instead of selling these tech stocks due to Cisco's woes, you're better buying them on weakness. Here's why...
Cisco's core business is selling routers and switches. Looking at the numbers, this part of the business is solid. In other words, I would lower the "red flag" on Juniper, NetLogic, and Jabil Circuits. These companies are likely to see continued strong demand for their products.
Most of the Cisco's weakness was due to government orders in the U.S. and in Europe. High deficits are leading to reduced spending by state and local governments. Other large-cap tech companies with high public-sector exposure are Hewlett-Packard and IBM. It will be interesting to see what these companies say about government spending going forward.
Another area of weakness for Cisco was in its set-top box division. Those are the cable boxes found in almost every household across the country. The biggest makers of set-top boxes outside of Cisco are Motorola and Arris Group. I wouldn't be surprised to see Cisco's weakness spread to these companies.
Each quarter, industry leaders like Boeing, ExxonMobil, Microsoft, and JPMorgan report earnings. Before you jump to conclusions based on the initial numbers and headlines, be sure to listen to what these companies are saying.
In this case, save money by avoiding companies like Motorola and Arris Group based on what Cisco reported. On the flip side, you should look to buy Juniper Networks, Jabil Circuits, or NetLogic at a discount. These have much better prospects going forward.
Good investing,
Frank Curzio