We begin Weekend Edition with an important "we wrote it, did you buy it?" from the October 2009 issue of
Stansberry's Investment Advisory
.
In it, Porter Stansberry predicted silver's gains would begin to outpace gold as we delved further into a monetary crisis. At the time, gold traded for a bit more than $1,000 an ounce. Silver was trading around $17 an ounce...
I believe silver is now more attractive than it has been in decades.
For most of recorded history, the price of gold has been around 16 times the price of silver. This ratio – the so-called silver ratio – has fluctuated from time to time based on silver discoveries and attempts by governments to regulate the silver-to-gold ratio.
But... in a free market, where demand for silver as money exists, I'd expect the natural supply and demand balance to lead to a silver price around 1/16 times the price of gold.
When silver is "demonetized," as it is now, supplies soar as people sell silver for gold and other currencies. On the other hand, during periods of monetary crisis, demand for silver as money pushes the silver ratio heavily in silver's favor.
... the silver ratio reached a historic low during the monetary crisis of the late 1970s, when the silver price soared to $50 an ounce. Lately, over the last decade, the silver ratio has been between 50 and 70. As the dollar loses its standing as the world's reserve currency, I expect the silver ratio to decline substantially and the price of silver to increase relative to gold.
As you can see over the last two years, gold has been outpacing silver. But... since last November, silver has outpaced gold. I expect silver's out-performance to continue and accelerate greatly.
Silver is the best hedge against a money crisis. In short, there is very little demand for silver as a commodity, compared to the demand for silver when it is used as money. – Porter Stansberry, October 2009, Stansberry's Investment Advisory
As you can see from the chart below, the trend is indeed in silver's favor. Gold is hovering just under $1,400 an ounce (an increase of less than 40% from October 2009). Meanwhile, silver goes for more than $27 an ounce (a nearly 60% increase). The gold-silver ratio is reverting to the mean...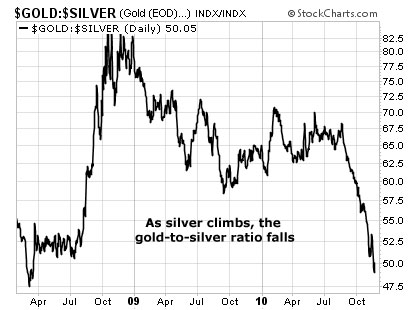 Why is silver acting this way? It's reasserting itself as a hard-money asset. Just as we believe gold could reach several thousand dollars an ounce in the coming currency devaluations, silver could easily reach $100 an ounce – good news for
S&A Resource Report
subscribers who are already sitting on huge gains in Silver Wheaton (SLW) and Silvercorp (SVM).
We've already seen a huge run-up in
gold and silver stocks
. But we've got more to go. You can no longer value these companies as mere stocks... They're trading as a hedge against monetary disaster. If you haven't already added some silver to your portfolio, we urge you to do so today. For our best ideas, check out Matt Badiali's
S&A Resource Report.
Matt is on fire lately: 82% of his current recommendations have returned double-digit gains, and he has five triple-digit winners in his portfolio right now. You can learn more about the
Resource Report
here
.
Regards,
Sean Goldsmith