On October 26, Sprint did it again. The mobile phone operator disappointed investors... again.
Earnings for its third quarter fell short of analyst estimates. That's a big deal when over 75% of the S&P 500 companies that already reported earnings beat the estimates for the current quarter.
The stock saw a quick 10% selloff. It's now trading just above $4 a share.
Sprint investors are used to disappointment. In 2008, the company wrote off $31 billion on its botched Nextel acquisition. That's almost three times the size of the company's current market cap. Analysts consider that acquisition one of the worst in history.
And from 2007 through early 2009, Sprint lost millions of subscribers to AT&T and Verizon. Customer service ranked near the bottom of every poll taken. In that timeframe, the stock fell from $22 a share to under $2.
Despite the negatives, the stock is a strong buy at these levels.
You see, over the past six months, Sprint bears have done everything in their power to push shares below $4. But as you can see from the chart, the support line holds every time.
In fact, every time Sprint has tested the $4 level, the stock jumps at least 20% in 30 days. Take a look...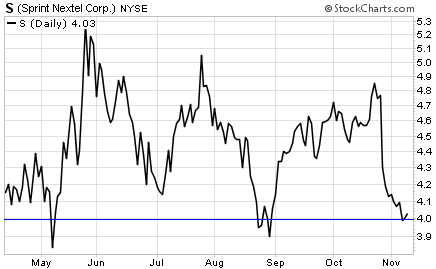 But that's not the only reason I like Sprint.
Looking at the quarter, Sprint only missed earnings by two cents. Revenues actually came in ahead of estimates. The company added 644,000 subscribers. That's a far cry from the millions lost over the past three years. Also, the amount of subscribers discontinuing service fell to less than 2%. That's the lowest level for prepaid subscribers in five years.
Analysts believe competition will hurt Sprint in 2011. Verizon and AT&T are making a push into 4G – which provides faster download speeds. T-Mobile is also increasing R&D to rebrand its image. This could hurt Sprint's profits down the road.
But let's take a look at the chart below...
Market Cap

Cap-Ex 2010*

Subscribers Added 2010*

Total Subscribers

AT&T

$172B

$17B

9.2M

92M

Verizon

$93B

$17B

5.3M

83M

Sprint

$12B

$2B

1.1M

48M

223M

* Expected
The total amount of U.S subscribers for these three companies is 223 million. Add in the 33 million T-Mobile subscribers and the total U.S count goes to 256 million. According to the U.S. Census Bureau, 233 million people over the age of 18 are living in the U.S.
In other words, every person over the age of 18 in the U.S. already owns a mobile phone. There's little growth left in the U.S. wireless market. That makes Sprint's 48 million subscribers a huge asset, one that's being drastically undervalued by analysts.
Looking at capital expenditures (cap-ex), AT&T and Verizon each spent about $17 billion in 2010 to build their subscriber base. For all that cash, AT&T added 9.2 million subscribers. Verizon added 5.3 million. These companies could add 48 million subscribers by using less cash to buy Sprint.
Sure, integration would be tough. But the acquirer would become the clear leader in U.S. wireless. Also, the cost savings over the first few years would probably range in the hundreds of millions.
On a technical level, Sprint's shares could pop 20% if the future is any indication of past price movements. Fundamentally, Sprint is a takeover target.
I believe the company would fetch more its book value ($5.25 a share) or more. That's more than 30% higher than the current price.
Good investing,
Frank Curzio