Less than two months ago, Canadian pipeline giant Enbridge did something strange.
The company announced it was spending $24 million to take a 20% stake in a modest, 35-megawatt project being developed by a company few investors have ever heard of: U.S. Geothermal (HTM).
The project is located at Oregon's Neal Hot Springs, where the Earth's heat literally shoots out of the ground. Companies like U.S. Geothermal build plants on top of these hot spots, providing clean, quiet energy for decades.
Don't be surprised if the Enbridge deal turns out to be the start of a string of new joint ventures or even acquisitions of geothermal companies. As large-cap energy companies and utilities move into this space, share prices are going to skyrocket. (U.S. Geothermal is up more than 40% since Enbridge announced the deal.)
It's easy to see why interest is brewing. Geothermal projects are capital intensive but low risk. The U.S. Department of Energy guarantees loans for up to 80% of a project's total cost. In addition, the government will subsidize up to 30% of expenditures.
Also, utilities and other energy companies that might be eying geothermal takeover targets have done extremely well in 2010. The utility sector fund (XLU) is trading near a two-year high while dishing out a dividend over 4%. Many of these companies are in a position to do some deals.
Finally, geothermal assets are on sale... Most geothermal stocks are down about 40% over the past year. It's one of the few areas in the energy space that isn't rocketing higher.
Take a look at Magma Energy (MXY on the Toronto Exchange), one of the biggest and best players in the industry. A lot of geothermal charts look similar...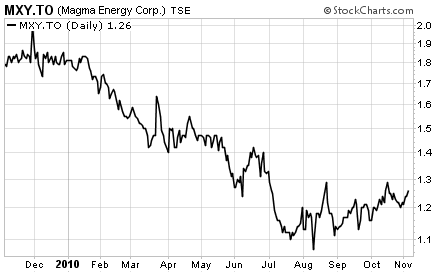 These companies sign long-term power purchase agreements that ensure a predictable stream of revenue. So one way to value them is to figure out the present worth of that future revenue stream, taking into account potential bumps along the road, and add that to current assets. It's called "risk-adjusted net asset value."
By this measure, U.S. Geothermal is worth somewhere between $1.60 and $2 per share. With shares trading for around $1.10, you've got plenty of upside. I'm seeing similar valuations in other geothermal stocks.
In a market that offers few bargains, geothermal stocks stand out. The already-low valuations make these stocks likely to outperform even if the broader market pulls back.
If you're not sold yet... keep an eye out for more announcements similar to the Enbridge deal over the next few months. These could provide the signal this unloved sector is about to take off.
Good investing,
Larsen