I don't know of a better growth story than Las Vegas Sands (LVS).
On October 27, the casino operator reported blockbuster third-quarter results. Most of the growth stemmed from its properties in Macau. This small island surpassed Las Vegas as the gaming capital of the world. Last month, revenues topped a record $2.4 billion.
You see, Macau is the only place in China where gambling is legal. Las Vegas Sands owns the biggest casino on the island, the Venetian Macau. At over 10 million square feet, it's the fifth-largest building in the world based on floor space.
I got a chance to see this casino in August on my visit to China. The gaming floor was about three times the size of any casino I'd ever seen. Nearly every table was packed with gamblers. Plus, it was Monday night – a "low traffic" day.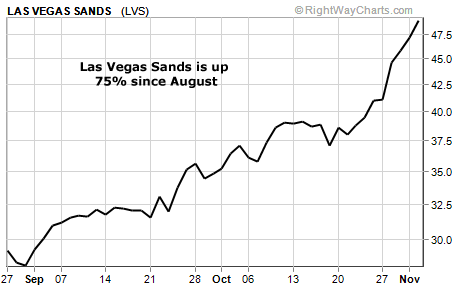 I still think the stock has upside from these levels. Here's why...
On the company's conference call, management talked about the huge growth coming from its Macau properties. This was expected – especially since revenue from this area has been hitting new records month after month. However, the big surprise was the massive growth in Singapore.
Las Vegas Sands opened up its newest casino in the area, called Marina Bay Sands. It's one of two companies (the other based in Singapore) licensed to operate casinos in Singapore. In its first full quarter of operation, Marina Sands generated almost $500 million in revenue. That surpassed every analyst's estimate by a mile.
Analysts are now projecting these two casinos could generate more than $6 billion in revenue over the next 12 months. That's about the same amount of casino revenues generated by the entire Las Vegas Strip.
The growth doesn't stop at Macau and Singapore...
Las Vegas Sands is creating more jobs, providing more tax dollars to the government, and helping fuel economic growth in Macau and Singapore. Based on its impressive track record, it's first in line to open casinos all across Asia.
For example, Las Vegas Sands is a front-runner to open casinos in Tokyo and Osaka, Japan. Management is in talks with Korea to start a gambling hub. Also, the company is opening casinos and hotels across the street from the Venetian Macau. In other words, Las Vegas Sands is becoming the gambling king of Asia.
As you can see, that's a heck of a good title to hold.
Good investing,
Frank Curzio