Trading the dollar is getting easier...
Below, you'll find a three-month chart of a popular U.S. dollar fund (UUP). This fund rises and falls along with the dollar. As we expected, the decline in the dollar has stalled, with UUP bumping off $22.20 per share.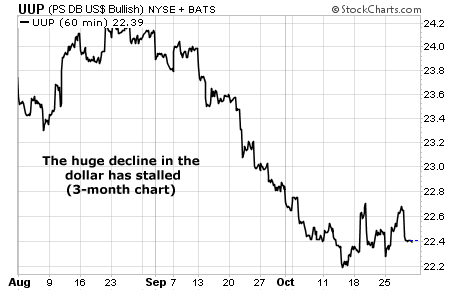 You'll also note that the rally we've been expecting hasn't materialized. Since mid-October, UUP has drifted sideways... and formed a short-term "base" we can monitor.
If the dollar is in for a rally, it's going to blast out of this $22.20-$22.60 area and head into the $23-per-share range. While this move doesn't sound like much, it's a big jump for a major currency.
Since commodities tend to move in the opposite direction of the dollar right now, a UUP move up to $23 would lead to commodities like gold, copper, and oil suffering corrections. You'd want to be long the dollar, short the euro, and avoiding commodities if this move happens.
If all of the problems the dollar faces (the two biggest being government debt and government debt) manage to pull the dollar even lower, UUP will sink past the $22.20 level. This would cause commodities and gold to surge.
So make sure to add UUP and the $22 range to your watch list. When assets like the dollar get into extreme situations like we've detailed in the past few weeks, they're often followed by huge moves. We now have a "road map" to trade it either way.
Good trading,
Brian Hunt