Warren Buffett, the world's most successful investor, doesn't like gold. In a 1998 speech at Harvard, he told the audience, "It gets dug out of the ground in Africa or someplace. Then, we melt it down, dig another hole, bury it again, and pay people to stand around guarding it. It has no utility. Anyone watching from Mars would be scratching their head."
The problem is, Buffett doesn't understand gold's utility. It is the world's perfect money. While it is not a productive asset, which Buffett prefers, it is a store of value. Also, as money, goods and services should be exchangeable for gold. Instead, we exchange them for paper. Last week, in an interview with
Forbes
, Buffett added to his bearish gold thesis:
"Look," he says, with his usual confident laugh. "You could take all the gold that's ever been mined, and it would fill a cube 67 feet in each direction. For what that's worth at current gold prices, you could buy all – not some, all – of the farmland in the United States. Plus, you could buy 10 ExxonMobils, plus have $1 trillion of walking-around money. Or you could have a big cube of metal. Which would you take? Which is going to produce more value?"
Again, Buffett doesn't understand gold is money. If gold is the world's currency and we assign a value to all the gold in the world, it should equal all the assets in the world. Because it is money, you can't value it like an oil company or farmland. Gold can't produce value, as Buffett says, because it
is
value.
When asked what the typical investor should own instead, Buffett answered without hesitation, "equities." While we don't agree with Buffett's long-term view of gold, we do agree equities are attractive today. And we think gold could be due for a correction.
Not even Jim Rogers, probably the biggest gold bull in the world, is buying at these levels. Why? Too many people are bullish. Around 98% of investors are currently bullish on gold. And a comparable number hate the U.S. dollar. Look at this chart of the dollar's value relative to gold. It's at a 20-year low (as far back as I could chart):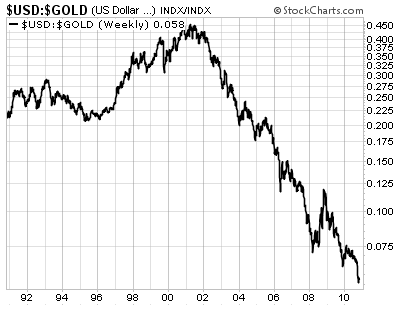 We wrote it, did you buy it?
Our third uranium pick [Hathor Exploration] is a potential moonshot.

Hathor's Roughrider deposit, located in Saskatchewan, Canada, is the best uranium discovery in the last 20 years for a junior uranium company. It's in the right, mining-friendly jurisdiction, within a few miles of eight major uranium deposits, including Cameco's McArthur River and Cigar Lake mines.

The company owns 90% of the Midwest Northeast project, which includes Roughrider. In November 2009, it published a resource of 12 million pounds of uranium at about 2.5% uranium. This is a tremendous deposit.

– Matt Badiali, August 2010,

S&A Resource Report
Hathor skyrocketed more than 16% this week on great drill results.
Resource Report
readers are up more than 55% on the recommendation in two months.
They've made a fortune following Matt over the past two years. He has 36 open recommendations in his portfolio. Only five are down. His track record is incredible. He's had four triple-digit winners this year (gains of 186%, 256%, 115%, and 339%). And he'll have five triple-digit winners after Hathor plays out. Matt's performance over the past couple years will likely go down as one of the greatest string of picks in newsletter history. To see what you're missing and learn about one of Matt's newest ideas,
click here
...
Regards,
S&A Research