It's quiet... too quiet.
I don't mean to rain on everyone's parade, but September has been much too tame so far. There was a slight dip in the S&P 500 at the beginning of the month. But since that time, the market has been rising steadily.
And investors are getting complacent again.
Prior to the Fed's decision to keep interest rates at current levels last Thursday, the Chicago Board of Options Volatility Index or VIX, was sliding back to historic lows. If you're unfamiliar with the VIX, it's used as a gauge for investor sentiment. As such, the lower the VIX is, the less worried investors are about the market's future. And at the moment, investors aren't very worried at all... which has got me worried.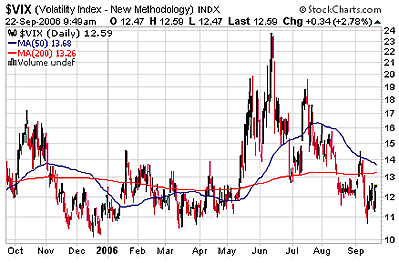 However, the same day that the Fed maintained interest rates, the Federal Reserve Bank of Philadelphia issued a report revealing that regional manufacturing activity went negative for the first time since April 2003. In simple terms, the housing market slowdown looks to be spreading to other industries.
Considering that from 2001 to April 2005, 43% of all new private sector jobs were related to housing, it's little surprise that a slowdown in that sector would affect the economy as a whole. However, it's taken the average US investor too long to see the connection. I expect Joe Investor will really put two and two together over the next couple of weeks as the market plummets.
Yes, I believe the market correction is here. We should see the VIX rising to 14 or 16 while the S&P 500 drops to 1,300 or even lower to 1,260.
In the meantime, tighten your trailing stops. And expect a terrific buy opportunity to come some time in early to mid October.
Good trading,
Graham