"You've got to be spectacular and transcendental - otherwise you ain't gonna get no whole lot of bread." - Robert Beck
The above quote comes from one of the most successful entrepreneurs of the 20th century. Having dropped out of the Tuskegee Institute in the 1930s, Robert Beck overcame racial prejudice, economic limitations, and social mores to amass a fortune by the age of 42.
However, Beck wasn't a stock picker or broker... he was a pimp in the slums of Chicago. To the hoodlums and ladies of ill repute, Beck was known as Iceberg Slim.
Slim is alleged to have earned the moniker during a violent bar shoot-out early on in his career. While bullets were flying and bodies falling, the 6-foot-3, 180-pound Slim calmly sat at the bar and finished his drink, despite a bullet flying through his hat. Floored by his coolness under pressure, the other gangsters began calling him Iceberg.
Slim quit hustling in 1960 at age 42. But he wrote about his experiences in a number of books, the most popular being Pimp: The Story of My Life. By the time of his death in 1992, Pimp had sold over two million copies. Combined with sales from his other works, Slim has become one of the best-selling African American novelists in history with over six million books sold by 1998.
Slim insists that coolness is essential for any money-making enterprise. "The best pimps," he later wrote, "keep a steel lid on their emotions and I was one of the iciest."
It's time for us to get icy as well.
September has historically been a terrible month for stocks. Earlier this month, we noticed that the Chicago Board of Options Exchange Volatility Exchange (VIX) was nearing historic lows. At that time, we forecast that the VIX would hit 12 or so, and then spike as the market slid.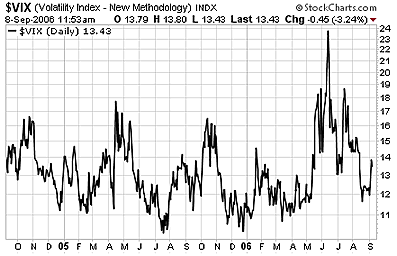 Sure enough, the VIX has risen and the market has slid. But to me, this looks only to be the beginning. Should the VIX break above its historic upward resistance level of 14, I think we're in for a spike to 18 or so... and for this to happen the market would have to fall significantly from its current levels.
Another market correction is likely coming in the next two weeks. Stay cool. Tighten your trailing stops and wait for the massacre to finish. It'll then be time to buy.
Or, as Iceberg would put it, "be spectacular and transcendental."
Good investing,
Graham