One of the most powerful – and least known – market indicators in the world is sending us all a message this week...
This indicator is called a "bearish rising wedge."
A bearish rising wedge is a technical pattern that is formed as a stock price moves higher on decreasing volume, as the daily trading range becomes more and more narrow.
The following chart of the NYSE Composite Index is a terrific example of this pattern...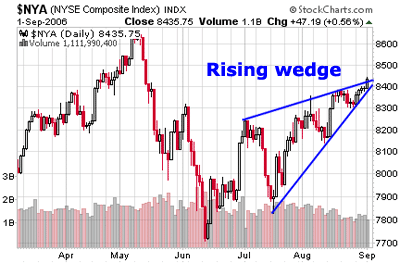 This pattern fools a lot of investors. Since the stock price is advancing, investors often misinterpret the pattern as bullish. However, the wedge usually breaks to the downside. The result is often a sharp decline that wipes out all of the gains from when the pattern began.
For example, back in April I pointed out to my Short Report subscribers the bearish rising wedge pattern forming on the chart of Merrill Lynch (
MER
). Look at how that pattern played out when it broke the wedge to the downside...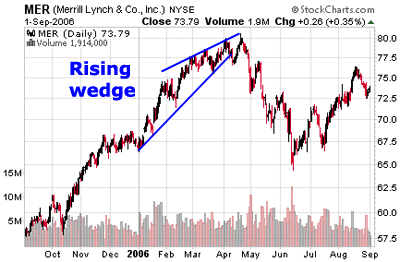 Of course, I wouldn't be so concerned if the NYSE Composite Index was the only chart displaying this pattern. But it's not. In fact, if you take a look at the charts of the Dow Jones Industrial Average, the NASDAQ, the S&P 500, and the Semiconductor Index, you'll bearish rising wedges forming on all of them.
Rising wedges don't always break to the downside. But it takes a very strong rally on increasing volume to negate the pattern. Given the extended nature of the current market advance, it's hard to imagine we'll see an upside breakout.
Last week I wrote about how September is often a difficult month for stock prices. The bulls are usually in charge for the first week of the month. But the bears take over with a vengeance for the rest of the month.
There's enough room inside the wedges for the market to rally a little further this week. But the risks of a significant correction have increased dramatically. If the wedges break to the downside, we could see all the major averages come back down and retest their lows from June.
So... the bad news is that we're probably in for a rough spell starting within the next week or so. The good news, however, is that if you didn't load up your portfolio when the market bottomed back in June, you'll probably get another shot at doing so in October.
Best Regards & Good Trading,
Jeff Clark
Further Reading:
Pharmaceutical stocks march on… Pfizer, AstraZeneca, Novo Nordisk, and Pharmaceutical ETF fill the new highs list.
Old Tech waking up… Hewlett-Packard, Cisco, and Oracle at new highs.
Nasdaq, S&P, Dow Industrials at 3-month highs… all near 2006 highs.
In The News
: Hedge funds warm back up to the huge yields in Iceland.