If you're looking for immediate profits, buy technology shares on any weakness this morning.
I know it sounds crazy, but I've seen this set up before... and it's as close as we'll get to a "sure thing" in the stock market.
Take a look at the following chart of the semiconductor index (SOX)...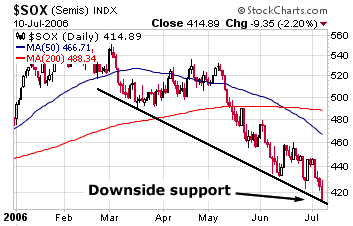 At first glance, there's nothing even remotely bullish about this chart. After all, it's hard to get too excited about a sector that's declined for nearly two months straight.
But yesterday's action has all the makings of an "exhaustion" sell-off similar to what we saw in mid-June. Back then, the SOX index rallied over 6% in just two days. I think we'll see an even bigger bounce this time around.
Let's face it, no one likes tech right now. Investor sentiment is overwhelmingly bearish. Public short sales are as high as they were back in October 2002. And asset levels in technology sector mutual funds are at historically low levels.
But with everyone piled up on the bear side of the boat, it won't take much to tip them over. The slightest hint of upside action will do the trick.
Of course, when it comes to the stock market, nothing is guaranteed. But we have all the ingredients necessary for a strong bounce in technology shares. If you buy into any weakness this morning, the odds are pretty good you'll be sitting on profits by Friday.
Best Regards & Good Trading,
Jeff Clark