It's become almost ridiculously predictable...
In anticipation to a period of rising stock prices, insiders are loading up on gaming and casino stocks.
Every year for the last three years, gaming stocks have staged impressive rallies during the fourth quarter. Of the dozens of charts I've looked at in this sector, each and every one exploded upwards in October time and time again.
It makes sense... gambling companies enjoy their strongest business in the summer. So October would find us in the midst of earnings announcements for the industry. It also presents buyers with an excellent time to purchase in anticipation of next year's summer season.
Of all the gaming companies out there, few can hold a candle to International Game Technology (IGT) when it comes to chart patterns or insider buying.
Based in Reno, Nevada, IGT designs slot machines and other casino-style gaming devices. With a $22 billion market cap and annual sales of $2 billion, it's a heavyweight in the industry. And 54% of these sales come from spinning reel, and other video screen gambling devices.
And as you can see, October has heralded massive jumps in shares price for IGT shareholders in 2003, 2004, and 2005: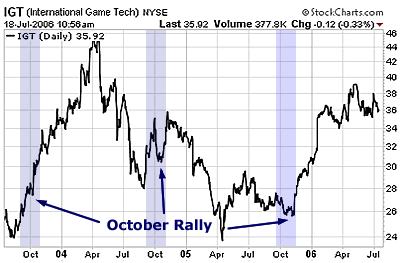 Among those taking massive profits from those rallies was Director Neil Barsky.
In September 2005, Barsky bought $65 million worth of IGT's stock for his investment fund, Alson Capital Partners. Within one month, his investment was already up 33% to $86 million
It looks like Barksy's doing the same thing this year. Last month Barsky exercised options to buy 64,000 shares of IGT's stock, worth some $2.2 million. And he also bought an additional 300,000 shares for Alson partners, valued at $10 million.
Somehow I don't think he's gambling here.
Good trading,
Graham