If you want to make fast money day-trading stocks and options, then you have to pay attention to Merrill Lynch (
MER
)...
Day trading, like skiing the double black diamond slopes, is risky business. Most beginning traders are better off on the bunny slopes.
But every once in a while, the slopes are groomed, the skis are waxed, and the conditions are just so perfect that you have to point your K2s downhill and just go for it. And on days like that, MER will guide you safely back to the lodge.
MER is a near perfect barometer of the strength or weakness behind the market's daily action. For example, if the stock market is up or down strongly, then MER will be up or down strongly as well. On the other hand, if the market is moving higher and MER is weakening – or if the market is moving lower and MER is gaining strength – then it's time to pivot, cut the skis into the hill, and head off in the other direction.
Yesterday was a perfect example...
The Dow Jones Industrial Average gapped up 50 points on the opening, and MER opened at $90 – up $0.41 on the day. But as the market tacked on another 35 points, shares of MER started falling back. The rally was on thin ice, and the Merrill Lynch December 90 puts (MERXR) – which were trading for $1.50 – looked perfectly groomed and ready for a good run.
Two hours later, MER was down $1.00 on the day, and the overall market's gains were cut in half. It looked like stocks were about to fall off a cliff. The market was still falling, but MER began to strengthen. Time to pivot, cut into the hill, and sell the MER puts for $2.20.
A 47% gain in a matter of hours is a pretty good day on the slopes.
By the end of the day, MER had rallied back to unchanged, and the Dow closed near its highs.
I can't explain why MER is such a good barometer to gauge what the overall market will do. I also can't explain how a spark plug starts a car. But when I turn the key in the ignition, I know what to expect. And, when I see MER moving in the opposite direction of the overall market, I know the outcome there, too.
And here's what's really important...
MER is also a terrific barometer for the intermediate direction of the market. Based on the looks of the following chart, there's a storm coming in...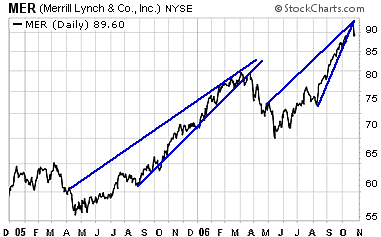 You can see how MER broke down from a bearish rising-wedge pattern back in April. And you probably remember the correction that pummeled the stock market in May.
MER is once again on the verge of breaking down from a rising-wedge pattern. Perhaps it's time to pivot, cut into the hill, and look for fresh powder elsewhere.
Best regards and good trading,
Jeff Clark