Last Friday morning, I discovered a turkey carcass on the hillside behind my house. Coyotes must enjoy turkey on Thanksgiving, too.
On the previous morning, I stood on my porch and watched a flock of wild turkeys scratching around my backyard, hunting for whatever it is that turkeys hunt for. I thought about how odd it is that these birds felt so comfortable in my presence.
Didn't they know it was Thanksgiving? Didn't they know I was planning to eat a relative of theirs that afternoon? Didn't they fear that they could end up on the menu?
Apparently not.
I ventured off the porch and walked out among the feathered creatures. They hardly noticed me. Oh sure, if I got within five feet of any of them they would saunter away in the opposite direction. But rather than cackling and flapping their wings and scattering away, they casually strolled away.
"What arrogance," I thought – for turkeys to be so fearless and complacent on Thanksgiving morning.
They reminded me of investors.
Last Wednesday, the Volatility Index (VIX) – the best tool for measuring fear in the marketplace – fell to its lowest level in 15 years.
Investors, just like the turkeys that frolicked in my backyard, haven't a care in the world. Of course, that's what happens when the stock market does nothing but go straight up for four months.
We've been warning about the dangers of high complacency for the past couple of months. But in a raging bull market, no one really wants to hear that sort of thing. It's kind of like the grandmother who hurries through the sand to tell all the teenagers at the beach party to wear sunscreen. The teenagers nod politely and thank her for the advice, but then they roll their eyes once she moves on.
Of course, at the end of the day, someone always gets burned.
After the 160-point drubbing in the stock market yesterday, I'm guessing there's more than just one investor reaching for the aloe vera this morning.
Take a look at what happened to the VIX...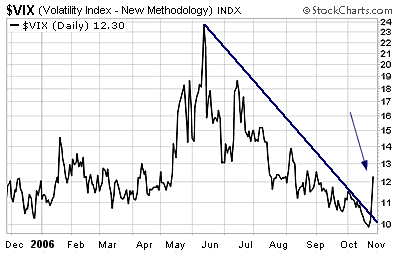 The VIX has decisively broken above its downtrend resistance line. Moves like this are almost never a one-day event. So the odds are quite high that we're in the early stages of a decent sized correction – similar to what we saw last May.
The talking heads on CNBC are suggesting this is nothing to worry about... and we can avoid any harm by taking a casual stroll away from the danger. But I think it makes more sense to cackle, flap our wings wildly, and scatter in all directions.
Otherwise we might end up as coyote food.
Best regards and good trading,
Jeff Clark