Traditional rules of trading don't apply during the final two weeks of the year.
Liquidity dries up during the holiday season. Big money institutional traders know this and use their cash stockpiles to move stocks around at will.
If you've ever watched a stock move up or down 5%-10% in one day on no news and no volume, then you know what I'm referring to.
An individual investor trying to trade alongside the institutions in this type of environment is like a four-year-old child battling with a bunch of eight-year-olds for candy when the piñata breaks. It's better just to stand aside and wait for the goodie bag at the end of the party.
But if you're going to trade during the holidays, then take a lesson from my youngest son. He hands his candy bag to his big brother, points to the piñata, and says, "Get some for me too, please."
In other words, let's find low-risk ways to piggyback on the big institutions.
The best way to do this is to look for cheap, out-of-the-money options that can appreciate quickly if the institutions decide to move the stock. This is a low-odds trade – kind of like betting on a single number at the roulette wheel – so you don't want to risk funds that you can't afford to lose. The potential big payoff, however, justifies the speculation for aggressive traders.
Now, I don't know whether we'll see the stock market rally or fall over the next two weeks. I do know, however, that semiconductor stocks typically lead a rising market. And the financial sector usually suffers the most during a decline.
Interestingly, as you can see from the following charts, the financial sector is tracing out a bearish rising-wedge pattern, which can break down any day.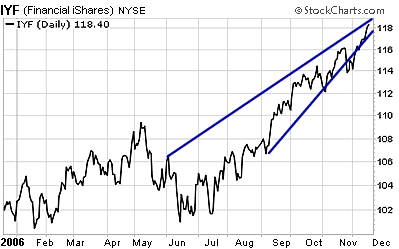 Also, the Philadelphia Semiconductor Index is flirting with a bullish breakout of a consolidating-triangle pattern.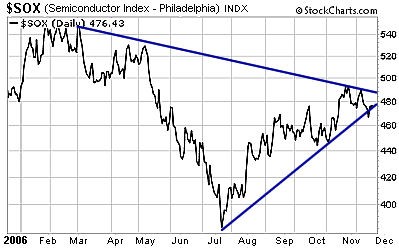 So perhaps it's not so important to determine exactly how the market will move. Rather, the best bet is to buy the appropriate out-of-the-money options on stocks in each sector and then let the big money institutions do their thing.
And when the piñata breaks, you'll be sure to get your share of the candy.
Best regards and good trading,
Jeff Clark