$8.8 billion.
That's how much of their own stock corporate insiders dumped in November. Put another way, during November, insiders sold their own stock at a rate of $293 million per day.
And they purchased?
$81.3 million.
It's a staggering discrepancy, bringing the total sales/purchases ratio for the month to 1/108. In other words, for every $1 corporate insiders put into the market, they took out $108.
Some analysts claim this is the result of options. And they should know: The highest sellers by sector were health, finance, and consumer discretionary. Altogether, these guys accounted for 57% of insider sales.
Wall Street made a killing this year. So much so that the five biggest brokerage firms – Goldman Sachs Group, Morgan Stanley, Merrill Lynch, Lehman Brothers, and Bear Stearns – are paying out $36 billion in bonuses this year.
I can't tell you how well these firms' picks did this year. But only Merrill Lynch and Bear Stearns have a history of beating the market... during bull markets, of course. However, I sincerely doubt that the people paying these firms for financial advice made enough money to justify forking over $36 billion in bonus money to these firms' employees. There's a reason why the folks on Wall Street, not their clients, own the yachts.
It's particularly interesting to note that insiders in the finance sector are cashing out of the market like there's no tomorrow. Especially when you consider the market's outlook in the short term.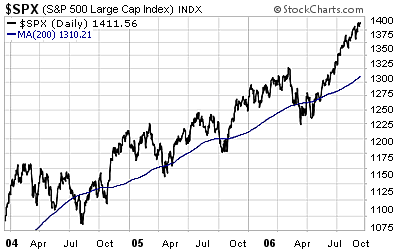 As you can see, the S&P 500 is now well extended above its 200-day moving average. And looking over the last three years, you'll notice a recurring theme: any time this extension happens, it's not long before a correction kicks in. You see it in the first two quarters of 2004, the first two quarters of 2005, and the second quarter of 2006.
Have another look at the above chart, and you'll also notice that this recent rally has been the most drastic and unchallenged of the last three years. I think it's strange that Wall Street is claiming "this time it's different" and that the market will continue to rise, while dropping shares of their companies' stocks by the truckload.
Why would they do this?
It's simple: When people believe the market is going to rise forever, it's a lot easier to convince them to hand over their money.
Sorry, but the market is not going to keep rising for much longer. And Wall Street doesn't need any more yachts.
Good trading,
Graham