In just about 50 hours, half of America's adult population will plop down on their living room sofas, loosen their belts, unbutton their pants, and drift off into a turkey-induced coma.
The other half will go on a diet.
It's just one of the many differences between men and women – and it probably dates all the way back to the caveman era.
As the weather turned colder and the days got shorter, prehistoric man would fire up the grill, throw on a slab of Mastodon ribs and then eat until all the blood rushed from his head down to his stomach, causing him to lose consciousness for several hours.
This eating and sleeping ritual would allow the caveman to grow an insulating layer of fat that would keep him warm and provide energy through the long winter months.
Prehistoric woman, on the other hand, would worry she wouldn't fit into the leopard print skirt she wanted to wear at all the holiday cocktail parties. She would eat smaller portions and spend her time talking with other cavewomen about the ongoing struggle to keep the weight off.
And that's how Weight Watchers International (
WTW
) got started.
Even today, as the weather gets colder and the days get shorter, men are unlikely candidates for weight control programs. It's not that we can't stand to lose a few pounds – it's just that we're genetically predisposed to try and do it ourselves.
Women, on the other hand, respond well to support groups. And weekly support meetings are a crucial element to the Weight Watchers program.
It is these meetings - combined with a focus on women as the target market - that sets Weight Watchers apart from other programs such as NutriSystem (
NTRI
) and eDiets.com (
DIET
). It's also a big reason why WTW remains the world's largest weight loss program.
And we're now entering the time of year where Weight Watcher's stock price starts to plump up a bit...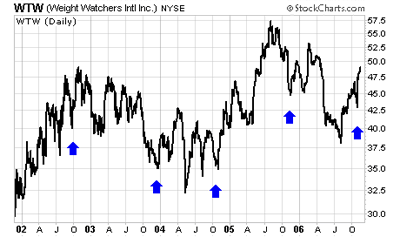 As you can see from the chart, WTW tends to bottom just ahead of the holiday season every year. And the rally off of that bottom ranges anywhere from 20% to 50%.
No doubt, this is the market's way of saying that "lose weight" will continue to top the lists of New Year's resolutions.
So, perhaps buying a few shares of WTW will be a good way to fatten up your portfolio.
Best regards and good trading,
Jeff Clark