We may be in for nasty weather soon... just ask the VIX.
One of my favorite contrary indicators, the Chicago Board of Options Exchange Volatility Index (nicknamed the VIX), measures market volatility based on options trading... particularly the premium investors are willing to pay to protect themselves on the downside.
If the VIX is high, it means investors are paying a lot of money to insure a market correction won't wipe them out. And if the VIX is low, it means investors are calm and unconcerned about the market's future.
Simply put, the VIX tells you how worried investors are about the market. And as such it's a great contrarian indicator for future market moves...
As you can see from the chart below, every stock market correction of the last two years has resulted in big jumps in the VIX. Most noticeable is the correction of May 2006... folks got so scared the VIX more than doubled in less than a month!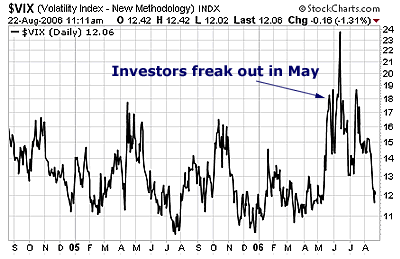 And that's when it's time to buy...
In the last four months, whenever the VIX peaked and everyone was worried about the market's future, the S&P 500 rose 3% soon after. It happened in a three-week market rally following the VIX's spike on June 13, and again when the VIX peaked on July 17.
Currently, the VIX is falling back to its historic low levels... and that's what worries me. Looking over the VIX's two-year chart, virtually every time the index fell to the 10-11 trading range, the market stumbled.
We're fast approaching September... a month that historically has been bad news for stocks. And with the VIX indicating investor sentiment as practically placid, it may be nearing time to take our profits.
Watch the VIX closely over the next three weeks. Right now, it's telling us investor's are getting complacent again... which is usually time to preserve your profits and protect your capital.
Good investing,
Graham