The world will not end today...
Today is August 22nd. According to the Muslim calendar, it's the anniversary of the Prophet Muhammad's ascension into heaven.
According to the slew of e-mails I've received over the past week, August 22nd is also the date that the world is supposed to end – or something like that.
The common theme of these e-mails is that terrorists will use Islam's holiest day as the starting point to kick off a new series of attacks on the West. Add that to the tension from last week's Heathrow Airport episode, and you can see why investors were on edge yesterday.
And when investors are on edge, they buy bonds, gold, and oil. They sell stocks. So it was no surprise that bonds, gold, and oil rallied on Monday while stocks declined.
But what do you suppose will happen Wednesday if nothing of consequence occurs today?
To the extent that the market movements on Monday represented investors' discounting of potential terrorist attacks, then we're likely to see a reversal of those movements tomorrow. That's what happens when an event is widely discounted but doesn't come to pass...
Nobody really knows what the odds of a terrorist attack are for today. I do believe that they are considerably less than not having a terrorist attack.
But that's not my prediction.
My prediction has to do with the report of existing home sales scheduled for release on Thursday morning.
Let's face it... New home sales are weak. The housing bubble has burst. Prices are declining. And just about every homebuilder has dramatically reduced earnings expectations for 2006.
With most homebuilding stocks are trading just a fraction above their yearly lows, investors are clearly discounting the release of miserable numbers. But what do you suppose will happen if the numbers are just a tiny bit better than expectations?
Housing stocks were sharply lower on Monday. To the extent that investors are discounting bad news on Thursday, the housing sector looks to be setting up for a decent rally.
Taking a look at the chart of the Dow Jones Homebuilder Index... I see a sector that appears to be trying to put in a bottom. I see a sector where the potential reward is far greater than the potential risks.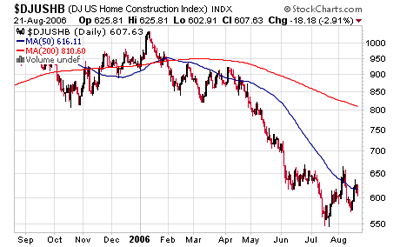 I don't think it's wise to bet on the world ending today. And, I don't think you should be shorting housing stocks ahead of Thursday's numbers. In fact, it makes more sense to take the other side of those trades...
Best Regards and Good Trading,
Jeff